Tebonin 30 Tablets
Tebonin contains the unique patented extract of Ginkgo biloba, EGb761. Tebonin helps maintain blood circulation to the peripheral areas of the body such as legs, feet and hands as well as maintaining capillary health and cognitive function.
The world's premium Ginkgo supplement
Backed by scientific research
Aids inner-ear calm & quiet, concentration, balance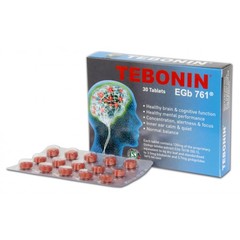 Specials are for online purchases only, don't miss out! -
Email
us to check for availability.
Backed by scientific research, Tebonin is the premium Ginkgo biloba supplement.

Tebonin contains the unique patented extract of Ginkgo biloba, EGb761. Through published scientific research over the past 30 years, Tebonin has been shown through to support all of the functions associated with circulation. As well as helping normal blood circulation reach the peripheral areas of the body such as the inner ear, brain, eyes, feet and hands, it also supports and maintains capillary health, mental alertness, concentration and memory.

How can Tebonin help to alleviate tinnitus and vertigo?

Tebonin is the most researched Phytopharmaceutical product worldwide. It works in a multitude of ways to protect cells and organs in areas with poor circulation, and improve blood flow.

Tebonin works in a number of ways to help alleviate tinnitus and vertigo:

Improves microcirculation
Improves flexibility of red blood cells and blood vessel tone
Increases the supply of nutrients to cells
Helps rid cells of waste
Free radical scavenger
Stabilises mitochondria
Protects cell membranes

Tebonin increases the elasticity and suppleness of red blood cells, which have to bend out of shape in order to fit through the tiny vessels of the microcirculatory system. This smoother, faster flow of red blood cells enables the cells to deliver oxygen and nutrients efficiently to the body's smallest organs.

Excess free radicals (increased by stress, smoking, poor diet, toxins and pollutants etc.) are reduced with Tebonin's powerful free radical scavenging compounds (flavone glycosides), and by improving blood flow to prevent free radical formation as well as enhancing the efficiency of the body's own "radical catcher" systems.

Tebonin indications include:

Tinnitus, Vertigo, improving peripheral circulation, cognitive function, capillary health, inner ear calm & quiet, concentration, balance.

Tebonin is twice the strength of Ginkgold at 120mg extract (50:1) per tablet.

For more info please visit the Tebonin site.
Take one Tebonin 120mg tablet daily. Tebonin tablets should be taken independently of meals.
For more intensive use, take two tablets daily.

Store Tebonin in a cool dry place below 30°C, away from direct sunlight.
Each Tablet Contains:

Proprietary Ginkgo biloba extract EGb 761 (50:1) 120mg
equivalent to 6gm dry leaf & standardised to 3.5mg bilobalide and 3.7mg ginkgolides.

Also contains: Lactose, croscarmellose sodium, dimethicone emulsion, colloidal anhydrous silica, hypromellose, lactose monohydrate, macrogol, magnesium stearate, maize starch, microcrystalline cellulose, talcum, colouring agents: E 171, E 172.

Free of gluten, yeast and artificial flavours.
Do not take if you have allergies pertaining to Ginkgo biloba. For further precautions see pamphlet enclosed with product.

Do not use if under 18, pregnant or breast feeding.