The Silver Solution Colloidal Silver 500ml
Colloidal Silver was rediscovered by scientists looking for an effective way to support the immune system. The benefits of silver were already well established, so an electrical method of turning pure elemental silver into a healthy drinkable form was developed. Colloidal silver has since been used successfully as a natural support to the body's immune system for over thirty years and has a massive and growing worldwide consumer following.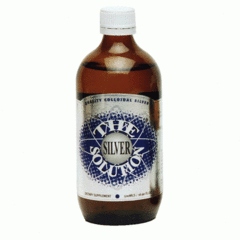 Specials are for online purchases only, don't miss out! -
Email
us to check for availability.
Scientific research
Evidential benefits of silver attracted the attention of leading scientists and medical researchers throughout the world. As a result, numerous new findings [Ref 5] have been published in scientific and medical journals on the beneficial health properties of the silver colloid.
Who should take The Silver Solution®?
Anyone who is struggling with their health.
Those wanting to support the body's natural immunity and defences.
Those wanting to help the body cope with the winter ills and chills and with the immune defences in the eyes, nose and mouth.
Suitable for the whole family
Gentle, easy-to-drink, high-quality dietary supplement.
Has an excellent safety profile when used as directed.
Not known to interfere with any medication, or cause side effects [Ref 6]
Always read the label and use as directed. If symptoms persist, see your healthcare professional.
Powerful immunity key to healthy life: The immune system is vital to our existence. Improper or weakened function will leave us predisposed to illness.
Antioxidant, toxins and free radicals: Silver is also believed beneficial in assisting the body to fight against toxins and the clearance of free radicals.
Assists healing and growth: When human fibroblast cells are exposed to silver they are believed to differentiate, that is, to assist in the production of embryonic general cells, this aids in growth and helps to stimulate tissue.
Helps the body's electrical system: Research indicated silver had an enormous benefit to the electrical system allowing different areas of the body to communicate more effectively.
The Silver Solution - natural, gentle, effective!: Silver is a natural earthly element like copper, iron, zinc and many other elements. Silver is able to be developed into a nutritional element or a metal. Silver has always been present in the daily human diet, our body's are familiar with silver and some researchers believe our bodies only function correctly when it is present. It is only now that researchers are discovering silvers health importance.
The Silver Solution should be considered as a natural nutritional daily supplement more than an alternative medicine. Extracted with the latest technology it is believed to have no practical toxicity level, dangerous side effects or adverse interaction with existing medication or medical conditions, within recommended dosage range.
Silver deficiency symptoms: Research indicates improper functioning of the immune system, especially in the failure to protect against invading pathogens, winter ills and chills and infections. Some silver deficiency symptoms maybe; slow healing, slow recovery from infections and infectious sickness, frequent winter ills and chills, general poor health.
Out performs all tested brands: The Silver Solution out performed all tested brands in laboratory challenge trials.
An unrivalled 3 year plus shelf life. It is a superior solution, without the need of stabilisers or additives.
Health professionals and customers alike consider The Silver Solution as the best colloidal silver available, and superior to all other colloidal silvers they have tried.
Note:: * = At recommended daily dosages.
How to take Colloidal Silver: Drink as required or take sublingually (under the tongue) additionally it can be sprayed.
Special directions: For best results take colloidal silver straight without mixing with juice other additives.
Dosage: Follow the instructions on the label or as directed by your health professional. For a powerful boost 50ml, 4x per day maybe taken but not recommended for more than 2-3 days, if taking large dosages drink extra water, however not at the same time as the colloidal silver - unless you are wanting to get the colloidal silver further down your small intestine, if this is the case and supplement with a pro-biotic (natural yoghurt).
Frequency: Take Colloidal Silver daily or as required.
Safety: Bottle is glass therefore keep out of reach of children, always replace lid after usage. Do not purchase The Silver Solution if the seal is broken.
Storage: Keep out of direct sunlight, store at room temperature, away from magnetic or electrical fields.
Food: Colloidal Silver may be taken with or without food.
Pregnancy: *No known problems.
Breast feeding: *No known problems.
Adverse side effects: *No known problems.
Antacids: *No known problems.
Reaction to medication: *No known problems.
Reaction to medical conditions: *No known problems.
Toxicity: *No known problems.
Overdose: *No known problems.
Addiction: *Non-addictive.
Allergic reaction: *Non-allergenic.