THOMPSONS IMMUNOFORT 120 TABS
Uniquely combines five categories of nutraceuticals that work synergistically for healthy immune function and protection from winter ills and chills.
Provides a synergistic combination of vitamins, minerals, amino acids, nutrients and herbs.
Provides year round immune support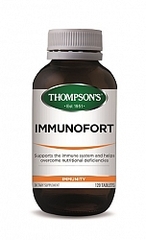 Specials are for online purchases only, don't miss out! -
Email
us to check for availability.
*Contains vitamins, including A, C, B, E that promotes healthy immune function.
*Contains minerals, including zinc and selenium that promotes healthy immune function.
*Contains herbs, including Echinacea, Andrographis, Olive Leaf, Shiitake Mushroomm for immune system support and Ginseng for adrenal support during times of stress.
*Contains nutrients, including amino acids and quercetin for added immune protection.
*Contains antioxidants including vitamins A, C, E that assists to safeguard the body against cellular damage by free radicals
*Aids in maintaining or improving general wellbeing

Suitable For:
*People with a busy lifestyle who want to avoid the financial and health impact of a sick family during winter
*Individuals who are stressed, travelling, recovering from illness
*Individuals with a compromised immune system.
*Individuals who suffer from extreme fatigue or exhaustion
Adults - Take one or two tablets daily (with food), or as professionally advised.
Retinyl palmitate 5 mg
equiv. Vitamin A 2500 IU equiv. Retinol 750 RE/mcg Thiamine hydrochloride (vitamin B1)10 mg Riboflavin (vitamin B2)5 mg Nicotinic acid (vitamin B3) 5 mg Calcium pantothenate 11 mg
equiv. Pantothenic acid (vit B5)10 mg Pyridoxal 5-phosphate 5.25 mg
equiv. Pyridoxine (vitamin B6) 3.6 mg Cyanocobalamin (vitamin B12)25 mcg Choline bitartrate 10 mgInositol 10 mgBiotin 25 mcgFolic acid 50 mcg Ascorbyl palmitate 48.4 mg
equiv. Ascorbic acid (vitamin C) 20.5 mg Calcium ascorbate 200 mgequiv. Ascorbic acid (vitamin C)165.2 mg Cholecalciferol 1 mcg
equiv. Vitamin D3 40 IU d-alpha Tocopherol acid succinate 41.3 mg
equiv. natural Vitamin E 50 IU Copper gluconate 85.7 mcg
equiv. Copper 12 mcg Ferrous fumarate 1 mg equiv. Iron 329 mcg Magnesium amino acid chelate 50 mg equiv. Magnesium 10 mg Manganese amino acid chelate 5 mg
equiv. Manganese 500 mcg Selenomethionine 32.5 mcg
equiv. Selenium 13 mcg Zinc gluconate 52.2 mg
equiv. Zinc 7.5 mg Olea europaea (olive leaf) extract equiv to leaf 500 mg Echinacea purpurea extract equivalent to root 150 mg Lentinula edodes (shiitake mushroom) powder 50 mg Lysine hydrochloride 50 mg Ornithine monohydrochloride 50 mgTyrosine 10 mg Glycine 20 mg Cysteine 10 mgValine 5 mg Bromelains 10 mg Quercetin 50 mg Andrographis paniculata (andrographis) extract equivalent to herb 200 mg Eleutherococcus senticosus (Siberian ginseng) extract equivalent to root 25 mg Panax ginseng (Korean ginseng) extract equivalent to root 25 mg

Free From
Dairy, egg, gluten, lactose, nuts, shellfish, wheat, yeast, artificial colouring, flavouring and preservatives
*Use only as directed and always read the label
*Vitamin supplements should not replace a balanced diet
*If symptoms persist consult your healthcare professional
*Not recommended for use in pregnant or lactating women.
The Thompson's brand was established by the respected English herbalist M. Barrington Thompson, who opened New Zealand's first health shop in 1951. Today, Thompson's is a market leader in natural healthcare in New Zealand, enjoying positive growth in Australia and exporting products around the world. In New Zealand, Thompson's is distributed through both health food stores and pharmacies.

Thompson's is dedicated to efficacious natural healthcare based on credible science. This commitment is reflected through our use of the highest quality raw materials and our unique product formulations. Thompson's are continually seeking solutions that will drive better health outcomes and deliver a range of healthcare benefits to support a healthy lifestyle.

Thompson's - the natural advantage.