THOMPSONS SKIN, HAIR AND NAILS 45 CAPS
Vitamin, mineral, herbal and marine protein complex
Formulated to help maintain healthy skin, hair and nails
Contains nutrients to support the formation collagen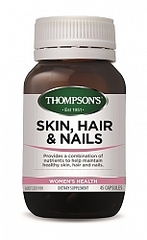 Specials are for online purchases only, don't miss out! -
Email
us to check for availability.
*Supports healthy skin, hair, and nails
*Supports the healthy formation of connective tissue such as collagen which is important for the structural integrityof skin, hair, and nails
*Helps to protect the the body's cells against free radical damage

Suitable For:
*Individuals who suffer from or prone to brittle nails
*Individuals who seek a daily supplement to maintain or improve the health of skin, hair, and nails
Adults - Take one or two capsules daily (with food), or as professionally advised
Retinyl palmitate 1.37 mg
equiv. Retinol 750 RE/mcg equiv. Vitamin A 2500 IU Calcium pantothenate 10 mg
equiv. Pantothenic acid (vitamin B5)9.17 mg Pyridoxine hydrochloride 10 mg
equiv. Pyridoxine (vitamin B6)8.23 mg Biotin 1.25 mg Ascorbic acid (vitamin C)30 mg Cholecalciferol (vitamin D3)10 mcg
equiv. Vitamin D3 400 IUd-alpha Tocopherol 20.1 mg
equiv. Natural Vitamin E 30 IU Zinc amino acid chelate 37.5 mg
equiv. Zinc 7.5 mg Selenomethionine 124 mcg
equiv. Selenium 50 mcg Silica - colloidal anhydrous 30 mg Fish oil - natural 100 mg
equiv. Eicosapentaenoic acid (EPA)18 mg equiv. Docosahexaenoic acid (DHA)12 mg Demineralised fish proteoglycan extract 125 mg Evening primrose oil 200 mg
equiv. Gamma-linolenic acid (GLA)20 mg

Free From
Corn, egg, gluten, lactose, nuts, shellfish, sugar, wheat, yeast, artificial flavouring and preservatives
*If you are pregnant, or considering becoming pregnant, do not take vitamin A supplements without consulting your healthcare professional
*Use only as directed and always read the label
*Vitamin supplements should not replace a balanced diet
*If symptoms persist, consult your healthcare professional
The Thompson's brand was established by the respected English herbalist M. Barrington Thompson, who opened New Zealand's first health shop in 1951. Today, Thompson's is a market leader in natural healthcare in New Zealand, enjoying positive growth in Australia and exporting products around the world. In New Zealand, Thompson's is distributed through both health food stores and pharmacies.

Thompson's is dedicated to efficacious natural healthcare based on credible science. This commitment is reflected through our use of the highest quality raw materials and our unique product formulations. Thompson's are continually seeking solutions that will drive better health outcomes and deliver a range of healthcare benefits to support a healthy lifestyle.

Thompson's - the natural advantage.