THOMPSONS ONE-A-DAY ST JOHNS WORT 4000mg 60 TABS
A natural non-habit forming way to help balance mood and adapt to stress
Standardised St. John's wort extract - each tablet provides 2.2mg hypericin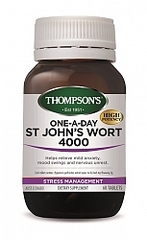 Specials are for online purchases only, don't miss out! -
Email
us to check for availability.
*Provides support during times of stress and worry
*Supports a healthy nervous system
*Provids support during times of fluctuating mood.
*Aids to improve the body's ability to cope with stress
*Aids in maintaining general health and wellbeing

Suitable For:
*Individuals who suffer from or prone to stress and worry
*Individuals who seek a daily supplement to support a healthy outlook during times of sadness.
*Those who suffer from or prone to mood swings
*Those experiencing disturbed sleep
*Women with symptoms of stress nervous tension during the pre menstrual period or menopause
Adults - Take one tablet daily (with food). This can be increased to two tablets or as professionally advised
Hypericum perforatum (St John's wort) extract equivalent to dry herb flowering top 4 g
Standardised to contain hypericin 2.2 mg

Free From:
Corn, dairy, egg, gluten, lactose, nuts, shellfish, soy, sugar, wheat, added yeast, artificial colouring, flavouring and preservatives. Vegetarian
*St. John's Wort affects the way many prescription medicines work, including the oral contraceptive pill
*Use only as directed and always read the label
*If symptoms persist, consult your healthcare professional
The Thompson's brand was established by the respected English herbalist M. Barrington Thompson, who opened New Zealand's first health shop in 1951. Today, Thompson's is a market leader in natural healthcare in New Zealand, enjoying positive growth in Australia and exporting products around the world. In New Zealand, Thompson's is distributed through both health food stores and pharmacies.

Thompson's is dedicated to efficacious natural healthcare based on credible science. This commitment is reflected through our use of the highest quality raw materials and our unique product formulations. Thompson's are continually seeking solutions that will drive better health outcomes and deliver a range of healthcare benefits to support a healthy lifestyle.

Thompson's - the natural advantage.