THOMPSONS ULTRA-B 60 TABS
Provides a high potency balance of B vitamins and magnesium
Provides essential nervous system support for those with busy lifestyles
Offers an effective combination of nutrients that may assist with the symptoms of stress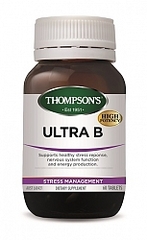 Specials are for online purchases only, don't miss out! -
Email
us to check for availability.
*Helps to promote the healthy functioning of the nervous system
*Offering nutritional support against the long term effects of stress
*Aids to relieve stress and tension
*Assists to alleviate fatigue and other symptoms of magnesium deficiency
*Aids in maintaining or improving general wellbeing

Suitable For:
*Individuals who seek a daily supplement to support the healthy functioning of the nervous system
*Individuals who suffer from or prone to situations which are likely to cause feelings of tension and stress
*Those who suffer from or prone to fatigue
Adults - Take one tablet twice daily (with food), or as professionally advised.
Thiamine hydrochloride (vitamin B1)50 mg Riboflavin (vitamin B2)15 mg Nicotinamide (vitamin B3)50 mg Calcium pantothenate 100 mg
equiv. Pantothenic acid (vitamin B5)91.6 mg Pyridoxine hydrochloride 25
equiv. Pyridoxine (vitamin B6)20.5 mg Cyanocobalamin (vitamin B12)25 mcg Biotin 25 mcg Choline bitartrate 25 mg Folic acid 100 mcg Ascorbic acid 125 mg Calcium ascorbate dihydrate 125 mg
equiv. Ascorbic acid103 mgd-alpha Tocopherol acid succinate 25 mg
equiv. Vitamin E natural 30 IUIron amino acid chelate 10 mg
equiv. Iron 1 mg Magnesium phosphate 100 mg
equiv. Magnesium 20.6 mg equiv. Phosphorus 17.5 mg Manganese sulfate monohydrate 5 mg
equiv. Manganese 1.6 mg Potassium phosphate - monobasic 35 mg
equiv. Potassium 10 mg equiv. Phosphorus 8 mg Zinc amino acid chelate 15 mg equiv. Zinc 1.5 mg Passiflora incarnata (passionflower)50 mg Valeriana officinalis (valerian)50 mg Scutellaria lateriflora (skullcap)50 mg Rosa canina (rosehip)20 mg Petroselinum crispum (parsley)5 mg Nasturtium officinale (watercress) 5 mg Lecithin 5 Inositol 25 mg

Free From
Dairy, egg, gluten, lactose, nuts, shellfish sugar, wheat, artificial colouring, flavouring and preservatives. Vegetarian
*Keep out of reach of children
*Use only as directed and always read the label
*Vitamin supplements should not replace a balanced diet
*If symptoms persist, consult your healthcare practitioner
The Thompson's brand was established by the respected English herbalist M. Barrington Thompson, who opened New Zealand's first health shop in 1951. Today, Thompson's is a market leader in natural healthcare in New Zealand, enjoying positive growth in Australia and exporting products around the world. In New Zealand, Thompson's is distributed through both health food stores and pharmacies.

Thompson's is dedicated to efficacious natural healthcare based on credible science. This commitment is reflected through our use of the highest quality raw materials and our unique product formulations. Thompson's are continually seeking solutions that will drive better health outcomes and deliver a range of healthcare benefits to support a healthy lifestyle.

Thompson's - the natural advantage.