Totally Natural Male Mojo 30 tabs
How would you like to keep your Sexual MOJO going strong?

You know yourself, when the sparks fly in your sex life it's the best feeling in the world. If your sex drive, sexual desire, sexual function, energy and stamina are all healthy and you have a positive mood, you may say your Sexual Mojo is strong. But if you'd like to spice up your sex life, here's some really good news.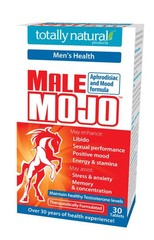 Specials are for online purchases only, don't miss out! -
Email
us to check for availability.
Developed by the scientists at the natural health company Caruso's Natural Health Male MOJO contains the powerful proprietary Nu Science formula. This herbal and nutritional formula may enhance your sex drive, improve your mood, energy and stamina in the bedroom.

Maintaining healthy Testosterone levels
When you are in your late teens, your testosterone production is at its peak. But as you grow older, your testosterone levels decrease. Caruso's Male MOJO contains a therapeutic dose of Tribulus, which may help maintain healthy Testosterone levels in your body. Caruso's Male MOJO also contains Testofen.

Potent Aphrodisiac formula boosts your libido and sexual function
The high potency Caruso's Male MOJO formula contains herbs which may help your sexual desire and sexual function. In traditional Chinese Medicine Panax ginseng is an aphrodisiac. It's used to promote sexual function and may enhance your libido and sexual desire.

The herb Damiana also included in Caruso's Male MOJO has been traditionally used by Mexican Indians as an aphrodisiac. The herb Withania and the amino acid Tyrosine have been added to Caruso's Male MOJO because they may enhance your sex drive.

When we speak of the chemistry of love, it's not just an idle expression. Different neurotransmitters in your brain play different roles at each stage of the mating game.

Caruso's Male MOJO contains a therapeutic dose of Tyrosine which is a precursor to the neurotransmitter Dopamine. Therefore, Tyrosine may help you with a positive mood!

Whilst Damiana has traditionally been used to lift mood associated with a lack of sexual desire.

Blood flow to your genital area
Because Caruso's Male MOJO contains Tribulus it may help release nitric oxide in your body. This may lead to vasodilation of blood vessels and increased blood supply to your genitalia.

Do you suffer from stress and anxiety?
In today's hectic and stressful world, it's no wonder you may have lost your Sexual Mojo. Caruso's Male MOJO may help you with stress. Panax ginseng may help you counter the effects of stress and help your body adapt to stress. Withania acts as a rejuvenating tonic and may assist you in reducing stress. Tyrosine is also good for stress.

It may increase your energy levels in stressful situations and help you adapt to stress as well. And if you're feeling anxious Damiana may assist with nervous tension and anxiety.

Fight fatigue plus increase your stamina and energy levels
Fatigue may rob you of your Sexual Mojo. Just as well there is Caruso's Male MOJO. The Panax ginseng, Withania and Tyrosine in Caruso's Male MOJO may assist you with fatigue. We all know a good amount of stamina is needed for satisfying love making. Withania and Panax ginseng may help with your energy and stamina levels.

A sharp mind is important for your Sexual Mojo
The Damiana in Caruso's Male MOJO may help boost your mental and physical capacity. Panax ginseng may help promote an overall improvement in your mental performance. Withania may help improve your memory. Whilst Tyrosine may assist with brain fatigue, menstal exhaustion and increased alertness. Tyrosine may also improve your cognitive function, memory and concentration.
Adults take 1 tablet 2 times a day with main meals or as advised by your Healthcare Professional.
Active Ingredients. Each tablet contains:
Trigonella foenum-graecum, (Fenugreek- Testofen™)
Extract equiv. to dry seed 3g (3000mg)
Tribulus terrestris (Tribulus)
Extract equiv. to dry fruit 2.5g (2500mg)
Standardised to Furanosil saponins Protodioscin 20mg
Tribulus terrestris (Tribulus)
Extract equiv. to dry root 2.5g (2500mg)
Standardised to Furanosil saponins Protodioscin 20mg
Turnera diffusa (Damiana)
Equiv. to dry leaf 2.0g (2000mg)
Panax ginseng (Korean Ginseng)
Equiv. to dry root 1.5g (1500mg)
Standardised to Ginsenosides 37.5mg
Withania somnifera (Ashwaganda)
Equiv. to dry root 1.5g (1500mg)
Tyrosine 500mg
Take at least two hours away from all other pharmaceutical medications. Caution with Warfarin, monitior INR levels with the help of your Healthcare Professional. Use only as directed, if symptoms persist see your Healthcare Professional.