Wartner Wart Remover 12 applications
Wartner is the only OTC product that treats warts in 20 seconds. Wartner is a new remedy for warts based on a proven technology.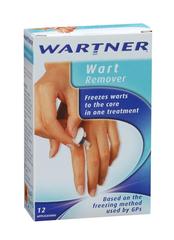 Specials are for online purchases only, don't miss out! -
Email
us to check for availability.
Wartner freezes the wart on the spot, resulting in the formation of an (in)visible blister under the wart.
After about 10 days, the frozen skin with the treated wart will fall off. In the meantime, new skin will have been formed under the blister.
Normal warts are benign growths which consist of a nucleus of connective tissue with blood vessels covered with layers of epithelial tissue.
You can recognize a normal wart by its rough, 'cauliflower'-like surface. If you are not 100% certain whether the skin condition is a wart, consult your general practitioner.
Just one treatment is usually sufficient. Two or three applications are recommended for stubborn or more persistent warts and verrucas. Allow 15 days between treatments.

Consult a physician if the aching, stinging sensation persists or if another complication occurs.
Keep the treated area clean.
Swimming and showering are permitted.
Do not pick at or scratch the treated area.
Protect blisters, if necessary with a plaster; do not puncture blisters.
Active Ingredients:
Wartner consist of :
An aerosol spray can with a mixture of dimethylether and propane, which is not harmful to the environment
Holder for the foam applicator
Ten foam applicators for ten treatments with Wartner
The information leaflet in which you can read everything about the product, the way it works and the treatment of warts with Wartner
Wartner is for the treatment of warts and not for other conditions which may resemble warts.
If in doubt if your condition is a wart, please consult a General practitioner
Do not use Wartner for moles, sun spots, birth marks or skin tags
Wartner should never be used on areas of thin skin (e.g. face, neck, armpits, breasts, bottom) or on genital warts.
Wartner is not suitable for diabetics, for people with poor circulation and during pregnancy.
Not for use on children under the age of 4.
Wartner contains inflammable components: Keep out of direct sunlight and do not expose to temperatures above 50°C.
Do not apply Wartner whilst smoking or close to naked flames.
If there are multiple warts or verrucas on a finger/or toe, treat only one at a time - treat each remaining wart or verruca separately with a two-week interval between treatments.
Suitable for external use only.
Use Wartner only in combination with the special foam applicators.
Use one foam applicator for each wart or verruca and use each foam applicator only once.
Store in a safe place.
Keep out of the reach of children.