Weleda Arnica/Symphytum Comp. Oral Liquid 30ml
Weleda Arnica/Symphytum Comp. Drops for bone, ligament injury.

Weleda Arnica/Symphytum Comp. Drops is a homoeopathic complex for injuries where there is damage to cartilage, ligament or bony areas.

Eg Tendinitis, knee or hip injuries, twisted ankles, falls, broken bones, bone injuries, surgery that affects cartilage or bones. Also sprains and strains, pulled muscles, strained backs.

It is also an excellent internal remedy for RSI (Repetitive strain injury, also known as occupational overuse syndrome).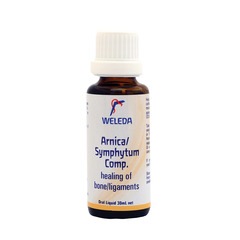 Specials are for online purchases only, don't miss out! -
Email
us to check for availability.
Weleda Arnica/Symphytum Comp. Drops is an effective remedy for both old and young.

Allium cepa (red onion) reduces inflammation and pain.
Arnica for muscular pain and trauma.
Ruta graveolens for bruising and injuries to cartilage, tendons, bones and tissues.
Symphytum for bone and joint injuries.
Symphytum s more familiar name is Comfrey, but it was traditionally coined 'Knitbone' because of its action.
Dosage
Take 5 drops (child ) to 15 drops (adult)of Weleda Arnica/Symphytum Comp. Drops every 2 hours in acute cases or three times daily at least 15 m inutes before food.
Active Ingredients
Weleda Arnica/Symphytum Comp. Drops contains equal parts of: Allium cepa 3x; Arnica 3x; Ruta graveolens 3x; Symphytum, decoct. 3x; in water/ethanol base.
"In harmony with nature
and the human being — for 90 years"

We passionately believe in the effectiveness of products that echo nature's instinctive means of healing: the secret lies in potent antioxidants, soothing plant extracts, and pure, nourishing oils. It's important to us, too, that we gather these ingredients in the gentlest way possible, in a way that pays homage to the delicate but vital relationship between humanity and our surrounding world.

We draw our organic ingredients from Biodynamic gardens or certified wild sources; we support local projects and form fair trade partnerships all around the world; we minimise our carbon footprint wherever possible, be it in construction or transport.

"We see beauty everywhere"

It's in the soil we till, the flowers we grow, the partnerships we build that honour the human spirit and respect the natural world. And of course we see it in you.