Weleda Baby Teething Powder 60g
Helps relieve the distress of teething in babies and children. Helps calm and soothe the baby.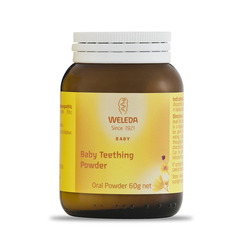 Specials are for online purchases only, don't miss out! -
Email
us to check for availability.
The average baby cuts their first tooth between six and nine months. Swelling or red gums can indicate teething pains. The child may drool, put objects in their mouth, have very red cheeks and can be very distressed.

Conchae 6x helps problems with teething.
Chamomilla root 20x is well known for its calming properties. It helps soothe irritability and irritation and lessens the pain associated with teething.
Babies/Children: Give 1/4 5mL teaspoon of powder straight or in a teaspoonful of warm water, three to four times daily throughout the period of teething, or as directed by your practitioner. Can be given as often as every 15 minutes for up to 6 doses if required.
Equal parts of:
Chamomilla, root 20x
Conchae 6x
in lactose base.
Consultation with a practitioner is advised before giving medicine to babies under 6 months. If symptoms persist, seek medical advice.
"In harmony with nature
and the human being — for 90 years"

We passionately believe in the effectiveness of products that echo nature's instinctive means of healing: the secret lies in potent antioxidants, soothing plant extracts, and pure, nourishing oils. It's important to us, too, that we gather these ingredients in the gentlest way possible, in a way that pays homage to the delicate but vital relationship between humanity and our surrounding world.

We draw our organic ingredients from Biodynamic gardens or certified wild sources; we support local projects and form fair trade partnerships all around the world; we minimise our carbon footprint wherever possible, be it in construction or transport.

"We see beauty everywhere"

It's in the soil we till, the flowers we grow, the partnerships we build that honour the human spirit and respect the natural world. And of course we see it in you.