Weleda Euphrasia 3x Soothing Eyedrops 10ml
Helps relieve Eyestrain and Sore Irritated Eyes.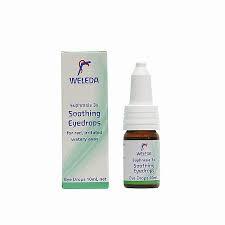 Specials are for online purchases only, don't miss out! -
Email
us to check for availability.
For irritated and "tired" eyes from dust, eyestrain from too much computer work or after a long drive. The eyes will respond remarkably quickly. They are also ideal for mild and simple conjunctivitis or eye inflammation, especially of babies and children. (We recommend seeking medical advice if this has not improved after twelve hours.) The eye drops should be discarded six weeks after opening.
Euphrasia (commonly known as Eyebright) is a humble plant, known since ancient times for the clear look it brings to sore and irritated eyes, and it contrasts with the sophisticated technology of the sterile production rooms at WELEDA Germany where the eye drops are manufactured.
Euphrasia contains medicinal substances (resins) that are mildly anti-inflammatory and antiseptic, as well as astringent (tannins), and this product contains a homoeopathic Eyebright. The astringent tannins also act as an antimicrobial.
Irritated and inflamed eyes are particularly sensitive to synthetic preservatives. Weleda pharmacists in Europe have developed an ingenious method of preserving the eye drops. Minimal quantities of soluble silver ions are released as necessary from a small ceramic ring inside the dropper to maintain the sterility of the drops.
The eye drops themselves are prepared and filled in the sterile production rooms at Weleda Germany. This facility contains some of the most technologically advanced pharmaceutical manufacturing equipment available and uses sophisticated manufacturing and filling techniques. This enables Weleda to fulfil the high quality standards required for eye drops.
Instil 1-2 drops into the affected eye every 2 hours, or as directed.
Euphrasia officinalis, fresh whole plant juice 3x.