yes Intro Oil Water Organic Based Combo
YES INTRO - our natural lubricant "taster" pack YES INTRO is our easy way for you to try three different YES natural lubricants in three different formats.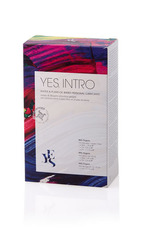 Specials are for online purchases only, don't miss out! -
Email
us to check for availability.
YES INTRO pack contains:
YES WB water based natural lubricant – certified organic
50ml / 1.7fl oz tube
7ml / 0.38fl oz sachet
5ml / 0.17fl oz pre-filled applicator
YES OB plant-oil based natural lubricant – certified organic
40ml / 1.4fl oz tube
7ml / 0.38fl oz sachet
5ml / 0.17fl oz pre-filled applicator – New & different formulation to YES OB 40ml and 7ml products
Before you try these three varieties of YES Lubricants, you may want to know more about their differences and compatibilities, this is a comparison between the two types of natural lubricant.
How YES lubricants are different
All YES Lubricants are:
Guaranteed pure and natural by their certified organic status
Designed to be side effect free and deliver outstanding lubrication
Made from natural and certified organic ingredients
Hypoallergenic: formulated to minimise the risk of allergies
Dual purpose:
YES WB is a lubricant and moisturiser
YES OB is a lubricant and massage oil
And can be used together – "Double Glideability" see below
Find the best lubricant for you
YES INTRO pack gives you the YES experience, in a number of formats, for you to determine which suits you best, or to experiment with different combinations of the products to achieve the effect you want.
A water-based lubricant may be your normal preference, and with this pack you can discover the superlative qualities and performance of YES WB natural lubricant. THE 50ml tube is enough for plenty of matchless moisturising or lubricated lovemaking, and the soft clear gel is suitable for internal and external finger application. Should you wish to insert the product more deeply into the body, then YES WB natural lubricant in pre-filled applicators enables ease of delivery.
Ever tried an oil based lubricant? For many of our customers, YES OB plant-oil based natural lubricant quickly becomes their favourite. This 40ml tube introduces you to its "plush" and sensuous texture, its great longevity and superb glide. Not suitable for use with condoms, but great for sex toy and water play and intimate massage.
YES OB natural lubricant in pre-filled applicators is equally opulent in feel, but with a softer texture suitable for flexible applicator use, so that the product can be inserted and delivered to the right place.
The natural lubricant sachets of YES WB and YES OB make for convenient and portable use, and the contents are a generous 7ml each.
This combination of products offers you the unique, long-lasting and voluptuous "Double Glideability" effect, achieved by applying YES WB on top of a layer of YES OB.
And naturally, you may be inspired to create new YES permutations of your own…
Once investigated, YES INTRO should give you full confidence in the purity and effectiveness of these natural and organic lubricants, and clarity as to which versions in the range you prefer. All YES lubricants are certified organic and suitable for daily use.
Of course you might just decide that YES INTRO is an ideal repeat purchase – giving you all the versatility of YES personal lubricants with a very acceptable saving of 23% on the full price equivalents.