YES OB natural plant oil based personal lubricant 40mL
Whether you use a little or a lot, for pleasure or for health, discover the full Yes® Collection of natural and organic intimate products, in a range of sizes and variants to meet your differing needs.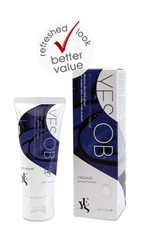 Specials are for online purchases only, don't miss out! -
Email
us to check for availability.
*Formulated for maximum lubricity and longlasting glide
*Imparts lavish and lasting lubrication
*Rich satin texture
*Marathon inspiring
*Hypoallergenic
*Ideal for water play
*Created with the finest quality organic plant oils, butters and a touch of bees wax
*Beneficial for skin, so no need to wash off
*Non-staining
*Chemical and preservative free
*Not recommended for use with latex condoms.
*Changing your world from the inside
Experience a breakthrough in Lubricant technology with Yes® – its outstanding performance enhances yours.
Yes® PI allows you to
Celebrate the absence of anything that might interfere with the power of your pleasure
Delight in anointing your body with silkiness
Appreciate its skin-nourishing and moisturising effects
Enjoy prolonging your love-making with ease and sensuousness
Discover the release from anxiety about synthetic ingredients
Revel in the freedom of lubricious sex
Relax in the certainty that you are cherishing your body and that of your partner
Thoroughly researched, responsibly formulated with original, effective and certified organic ingredients, elegantly packaged and sensitively dispensed, Yes® has the power to change your world from the inside.
Yes® lubricants offer you the discretion of products which, unlike most other lubes, draw no attention to themselves through disturbing smell, taste or colour. We believe that lubricants should facilitate your pleasure, without masking your skin and senses. Sexual arousal is intimately linked to natural pheremones, and with Yes® lube, your own signals of desire are neither obscured nor confused, but - Luberated!
Prunus dulcis (Sweet almond) oil*, Butyrospermum parkii (Shea butter)*, Helianthus annuus (Sunflower) seed oil*, Theobroma cacao (Cocoa) seed butter*, Cera alba (Bees wax)*, Natural Tocopherols (Vitamin E).
*Organically grown ingredients