YES water-based H2O Organic Applicators 6 pack
Whether you use a little or a lot, for pleasure or for health, discover the full Yes® Collection of natural and organic intimate products, in a range of sizes and variants to meet your differing needs.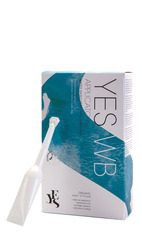 Specials are for online purchases only, don't miss out! -
Email
us to check for availability.
*Realistic lubrication
*Velvety sensuous feel
*Intensely hydrating
*Hypoallergenic
*Releasingly free of any smell, taste, colour or residue to distract your senses.
*Replenishes natural moisture
*Perfect substitute for the body's own lubrication
*Compatible with condoms, latex and silicone toys
*Protects mucus membranes, and if necessary, supports healing
*Leaves skin clean and residue free
*pH compatible
*Non-staining
*Changes your world from the inside
Experience a breakthrough in Lubricant technology with Yes® – its outstanding performance enhances yours.
Yes® water-based allows you to
Celebrate the absence of anything that might interfere with the power of your pleasure
Delight in anointing your body with silkiness
Appreciate its skin-nourishing and moisturising effects
Enjoy prolonging your love-making with ease and sensuousness
Discover the release from anxiety about synthetic ingredients
Revel in the freedom of lubricious sex
Relax in the certainty that you are cherishing your body and that of your partner
Experience the discretion of a lube that feels and behaves like the real thing
Thoroughly researched, responsibly formulated with original, effective and certified organic ingredients, elegantly packaged and sensitively dispensed, Yes® has the power to change your world from the inside.
Yes® lubricants offer you the discretion of products which, unlike most other lubes, draw no attention to themselves through disturbing smell, taste or colour. We believe that lubricants should facilitate your pleasure, without masking your skin and senses. Sexual arousal is intimately linked to natural pheremones, and with Yes® lube, your own signals of desire are neither obscured nor confused, but - Luberated!w
Directions for using applicators
1. Remove applicator from the container. DO NOT USE if applicator tamper evident tip has been removed
2. Hold the applicator at the wide end and shake contents to the narrow end before insertion
3. Snap off tamper evident tip by twisting
4. To apply, insert the narrow end of the applicator only, into the vagina. You can lie down, stand or sit to insert the applicator – whichever position is most comfortable.
5. Once inserted squeeze the wide end, several times, to ensure the contents are released
6. Continue to squeeze the applicator as you extract it. These are single use applicators – discard when empty.
7. They are made from recyclable materials, please recycle where possible
Aqua (water), Aloe barbadensis (Aloe vera)*, Cyamopsis tetragonolobus (Guar Gum)*, Ceratonia siliqua (Locust Bean Gum)*, Linum usitatissimum (Flax extract)*, Phenoxyethanol, Potassium sorbate, Xanthan Gum, Citric acid.
*Organically grown ingredients