MACK'S AquaBlock Ear Plugs 2 Pair
2 Pair, Purple
Super Soft, Pre-moulded flanged earplugs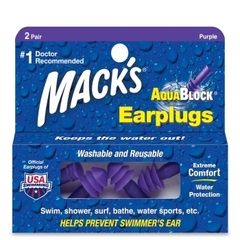 Specials are for online purchases only, don't miss out! -
Email
us to check for availability.
Mack's AquaBlock pre-molded flanged earplugs are constructed of silicone and designed for super soft, super comfortable, waterproof protection.
Unique Flex Stem and triple flange design allow for a more customized fit, which increases sealing ability and improves wearer comfort
Pre-molded silicone will not deteriorate like similar earplugs made of plastic
Helps prevent swimmer's ear and surfer's ear
Washable and reusable for extended wear
Carrying case included
Directions
1. Reach over head and gently pull up and back on outer ear to straighten ear canal.
2. With opposite hand, grasp earplug stem and insert by pressing forward in a circular motion to form airtight seal.

Caution: Remove earplug slowly with twisting motion to gradually break the seal. Rapid removal may damage eardrum.

Tips:
• If you are having trouble getting the plug to seal, re-insert and wiggle stem while gently pushing plug to form an airtight seal.

• If you are having trouble inserting the plug into the ear canal, try inserting with the tip pointed slightly forward, toward face.
Warnings & Precautions
Caution: Do not push the earplug so far into the ear that your are unable to get it out. You should be able to easily grasp the stem with the thumb and forefinger for removal. Remove slowly with a twisting motion to gradually break the seal.

WARNING: Keep away from infants and small children. These earplugs are non-toxic, but may interfere with breathing if caught in windpipe, which could lead to serious injury or death.

WARNING: Recommended for ages 7 and up. Mack's AquaBlock Earplugs are not recommended for use with ear tubes or by patients recovering for ear surgery unless directed by a doctor. Use Mack's Pillow Soft Silicone Earplugs with ear tubes and for post surgery protection. Do not use for scuba diving or at depths over 10 feet. Use only as directed.

NOTE: Mack's AquaBlock Earplugs are safe for use in salt and chlorinated water. Earplugs should be inspected regularly for serviceability. If they become hard, torn or deformed, they should be replaced.

In case of misuse call: (586) 427-7205 for a 24 hour message.

Cleaning Instructions
Wash with mild soap and warm water. Dry thoroughly before inserting into ear.