Artemis Liver Detox Tea 30g
Liver Detox Tea is a daily detox to improve your health, energy and wellbeing. Common issues like headaches, poor skin, allergies and tiredness stem from having an unhealthy liver.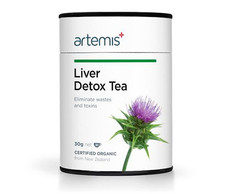 Specials are for online purchases only, don't miss out! -
Email
us to check for availability.
Your liver is the most important cleansing organ, processing everything that you eat, drink and even breathe. Think about what you are exposed to on a daily basis – processed food, alcohol, pharmaceutical drugs. You shower every day to cleanse your body but more often than not your liver can be forgotten. Liver Detox Tea helps your liver to work efficiently and effectively. Detoxification is the key to vitality and good health. Be it a daily ritual (which we strongly suggest) or a concentrated detox regime. Either way, give your hardworking organs a helping hand with Liver Detox Tea.
Try our Daily Detox - the Liver Detox Tea and Kidney Cleanse Tea provide a dual approach to cleanse and flush the body of toxins.
Shake contents before opening. Use 1 level teaspoon (1g) per cup (150ml) and infuse with boiling water for 5-10 minutes. Do not microwave.
Detox Dose: 3 cups daily
Maintenance Dose: 1-3 cups daily, before meals
Filled by weight. Contents may settle after filling. 30g = 30 doses.
100% certified organic:
Calendula (Calendula officinalis flos): A lymphatic cleanser and bitter tonic, it enhances the detoxifying function of the liver and spleen. It helps heal internal wounds and ulcers. It is particularly useful for treating stomach ulcers, general inflammation and discomfort of the gastrointestinal tract.
Dandelion root (Taraxacum officinale radix): Used for centuries to treat issues associated with liver dysfunction. Dandelion helps to increase the flow of digestive juices and break down food for better absorption. Ideal for problems caused by a sluggish liver such as tiredness, irritability, skin problems and headaches.
Fennel seed (Foeniculum vulgare semen): Fennel is well known as an effective digestive remedy by helping to break down food and relieve flatulance. With alkalising properties, this herb helps treat indigestion, heartburn and excessive acid stomach.
Globe Artichoke leaf (Cynara scolymus folia): Promotes overall liver health due to its ability to support gallbladder function, lower cholesterol, increase bile production and prevent gallstones. It is clinically used in fat intolerance, nausea, abdominal pain and constiptation. It has a strong antioxidant activity that protects and regenerates liver cells.
Peppermint (Mentha piperita folia): Helps reduce a number of painful digestive problems including bloating, gas, spasms and nausea. It stimulates and cleanses the liver and gallbladder. It istraditionally used to prevent gallstones, and a clinical trial has shown to disolve gallstones.
St. Mary's Thistle (Silybum marianum semen): A unique herb due to its ability to detoxify, protect and strengthen the liver. There are no pharmaceutical drug equivalents. Beneficial as a daily detox but also for a range of health issues from adrenal disorders to inflammatory bowel problems and gallstones.
No gluten, sugar, caffeine, artificial flavours, colours or preservatives. GE free.
Suitable for adults, pregnant or breastfeeding women and children. Use as directed. If symptoms persist see your health professional.
Safety:
No drug-herb interactions documented at the recommended dosage
Check ingredients for any known allergies
Discontinue use if irritation occurs
No restriction on long term use
To avoid external contamination close container immediately after use. Keep away from heat and moisture. Store in fridge in hot and humid climates.
We are one of New Zealand's leading natural health companies, offering a premium range of natural products carefully crafted from medicinal plants. Our 100% natural range includes oral liquid supplements, remedial bodycare products and certified organic health teas. All products are manufactured in Dunedin and sold in health stores, pharmacies and online, both in New Zealand and exported around the world.
Our mission is to promote, inform and empower people to proactively maintain their health. We strive to maintain the highest ethical values in creating products of real worth and integrity.
Our story
Artemis was founded in 1998 by Sandra Clair, a registered medical herbalist with an extensive list of qualifications in medical anthropology and health science from Swiss, Australian and New Zealand universities. Sandra also has special clinical training in Traditional European Medicine.
In 2012 Artemis Natural Healthcare was awarded:
Deloitte Fast 50 - Fastest Growing Manufacturer in the lower South Island
Westpac OBIZ - Ethics Award for ethical and environmentally responsible business practices
What makes us different
The Artemis range originates from authentic Swiss formulas, supported by the latest research in plant-based medicine. Our products are formulated to provide essential and fast-acting natural health solutions to empower people to look after themselves.
The key to our products' effectiveness:
Unique and comprehensive recipes of professional strength

Medicinal-grade herbs with high levels of active constituents

100% natural and certified organic ingredients
Our manufacturing processes are independently audited by BioGro, ensuring the delivery of reliable quality for effective, natural health solutions. Our premium products are beneficial for all ages, including babies. They are designed to be safely used alongside pharmaceutical medicine and during pregnancy and breastfeeding. We pride ourselves on our impeccable safety record.
Commitment to quality
Artemis products are strictly GE free and hypo-allergenic. They do not contain any gluten, lactose, sugar, artificial flavours, colours, fragrances, detergents, mineral oils, paraffin, parabens, pharmaceutical drugs, propylene glycol or synthetic fillers. They are not tested on animals.
Each product is developed with rigorous testing, ensuring the most effective formulation is achieved.
Unlike many mass produced medicines, Artemis products are seasonally manufactured by hand in small batches from the latest available harvests to ensure maximum freshness and potency. We source our plant ingredients from organic suppliers throughout New Zealand and Europe.
The unique environment and climate in New Zealand produces some of the best quality medicinal plants in the world. We sustainably wild harvest a number of herbs in the unpolluted New Zealand mountain landscape. This care for our raw ingredients provides herbs of pure quality and high levels of active constituents, which maximizes the product's efficacy. It also ensures that our ingredients are grown without toxic herbicides or pesticides that are harmful to both the human body and the environment.