Bioglan Kids Smart Calcium + Vitamin D3 50 chewable capsules
Bioglan Kids Calcium provides calcium to children in chewable strawberry flavoured burstlets. Calcium is essential for their bones, teeth and health as well as to support the nervous system and muscle function of young children. Dairy and Lactose free.
Many kids struggle to get enough calcium in their diets -- strong bones are formed during childhood so inadequate calcium can lead to weak bones & problem later in life. Bioglan Kids Calcium is the 1st Calcium Burstlet for kids!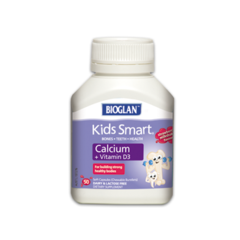 Specials are for online purchases only, don't miss out! -
Email
us to check for availability.
Features & Benefits:
*Great tasting & fun burstlet which kids love to take
*2 burstlets deliver over 50% of a child's daily calcium needs
*Delicious Strawberry Milkshake flavour
*Companion seller to the market leading Kids Smart
*200mg of Calcium + Vitamin D
*Great tasting fun burstlet


Additional Information:
Strong healthy bones are developed as a child. Without adequate calcium in the diet children can develop bone problems in later life including osteoporosis. Many children today do not get the calcium they need due to the increase in processed foods, allergies and dietary changes with a western diet. Bioglan Kids Calcium is the solution you are looking for.
Children from 3 years
Take 1-2 soft capsules (chewable burstlets) per day
Or as recommended by your healthcare professional.
Can be chewed and swallowed.
Active Ingredients:
Each Capsule contains:
Calcium 220mg
(as Calcium Hydrogen Phosphate Anhydrous 678mg)
Vitamin D3 300IU
(Cholecalciferol 7.5mcg as Cholecalciferol Concentrate Oily Form)
Phosphorus 254mg
(as Calcium Hydrogen Phosphate Anhydrous 678mg)

Dairy & Lactose free