Blackmores Vitamin B12 Tabs 75
Supporting healthy red blood cells
Vitamin B12 supports red blood cell formation and the conversion of food into energy. Vegetarians, pregnant women, people with coeliac disease and older people may all benefit from supplementation.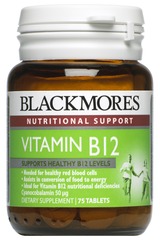 Specials are for online purchases only, don't miss out! -
Email
us to check for availability.
*Supports the formation of healthy red blood cells
*Supports the conversion of food into energy
*Supports the metabolism of folic acid (folate)
*Small, easy-to-swallow tablet

Vitamin B12 supports the healthy functioning of all cells of the body, and plays a critical role in energy metabolism. It is essential for red blood cell production and is also required for folic acid metabolism.
The only dietary sources of vitamin B12 are animal foods such as organ and muscle meats, so vegetarians and vegans may benefit from supplementation.
Others who may benefit from vitamin B12 supplementation include people with coeliac disease or other gastrointestinal disorders, pregnant women, and older people.
Adults - Take one tablet daily with main meal, or as professionally prescribed.
Children (under 12 years) - Only as professionally prescribed.
Vitamin B12 (Cyanocobalamin) 50 mg
Blackmores, a leading natural health brand, improves peoples' lives by delivering the world's best natural health solutions, to become peoples' first choice in healthcare. We achieve this by translating our unrivalled heritage and knowledge into innovative, quality branded healthcare solutions that work. Our high quality products, reliable free naturopathic advisory service and award-winning website are among the many reasons Blackmores is the most trusted name in natural health.