Blis ToothGuard Junior with BLIS M18™ - Strawberry 30 lozenges
BLIS M18™ ToothGuard Junior is a new generation of advanced oral probiotics, developed from a special strain of beneficial bacteria called Streptococcus salivarius that is found to occur naturally in the healthy mouths of adults and children.
BLIS range includes BLIS K12™, formulated for the protection of the mouth and throat cavity and BLIS M18™ for the defence of teeth and gums.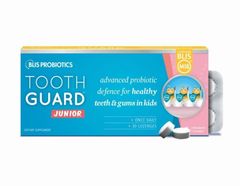 Specials are for online purchases only, don't miss out! -
Email
us to check for availability.
BLIS M18 is a new generation of advanced oral probiotic, developed from a specific strain of beneficial bacteria called Streptococcus salivarius that is found to occur naturally in the healthy mouths of adults and children.
BLIS M18 WORKS IN 2 WAYS:
1. The "good" bacteria (BLIS M18) crowd out the bad bacteria responsible for cavities and gum disease
2. BLIS M18 also inhibits bad bacteria, providing protection against them coming back. Think of it as a 'forcefield' around your oral cavity
BLIS M18 HAS BEEN SCIENTIFICALLY DEVELOPED to support the health of teeth and gums when used in conjunction with regular brushing.
Recommended for children aged 5 and over.
Find out more about BLIS M18 probiotics
For best results, slowly dissolve one lozenge in the mouth 1-2 times a day, ideally after brushing. BLIS ToothGuard Junior works best if eating or drinking can be avoided for at least 30 minutes after taking. The longer BLIS M18 is in your mouth, the better the colonisation will be, and the more the bad bacteria can be crowded out.
Isomalt, Tableting Aids, Streptococcus salivarius M18™ (contains at least 2.50 billion CFU/dose at the date of manufacture), Natural Flavour.
Do not take ToothGuard Junior while taking antibiotics.
If you have an immune compromised condition, please seek your doctor's advice before taking.
Oral health and overall health are strongly connected and this is really starting to be more recognised globally as we understand more about human health.
The state of your oral health can offer lots of clues about your overall health. Our mouths and throats are teeming with billions and billions of bacteria, most of which are beneficial. But when the balance of 'good' and 'bad' bacteria is upset we develop conditions like strep throat, tonsillitis, ear infections, gum disease and tooth decay. While it is known that diseases of the oral cavity, throat and upper respiratory tract can have serious short and long term effects on the body, there is now emerging evidence that microorganisms associated with diseases such as gingivitis and periodontal diseases might also be linked to much more serious conditions. We know that untreated strep throats can develop into much more serious conditions like rheumatic fever and this can lead to rheumatic heart disease – a very serious condition which can leave the heart valves scarred.
Scientists have identified several links between poor oral health and other health problems -- although they can't yet establish cause and effect. This list of health problems has been growing as research continues.
BLIS K12 and BLIS M18 are scientifically developed advanced oral probiotics that can assist and support good oral health by attacking and crowding out the 'bad' bacteria. BLIS K12 is targeted towards ear, nose and throat health. BLIS M18 is designed for healthy teeth and gums.