Clinicians Iron Boost 30 capsules
NEW Clinicians Iron Boost provides a well absorbed, non constipating high dose form of iron with important co-factors to enhance iron absorption and utilization in the body. Iron is an important mineral with many functions in the body including the production of red blood cells. Iron deficiency is common in vegetarians, menstruating women, pregnancy, infants and the elderly.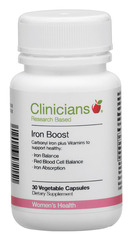 Specials are for online purchases only, don't miss out! -
Email
us to check for availability.
Iron Boost Benefits

Contains Carbonyl Iron which is 100% pure, high strength bioavailable iron to support healthy iron levels
The Carbonyl Iron is far less toxic than other forms of iron such as soluble salts. The metalic taste is also minimal compared to other forms of iron making it palatable when it is necessary to open capsules for individuals who have difficulty swallowing supplements.
Carbonyl iron is gentle on the gastrointestinal tract and unlike other forms of iron is associated with fewer side effects such as constipation.
Contains iron with co-factors to increase iron absorption and function in the body
Contains vitamin C, which has been shown to assist with Iron absorption
Contains vitamin B12 and folic acid to enhance the action of iron in the body

Iron Boost Features

Gentle on the stomach and non-constipating
Low toxicity great for everyone especially children, pregnant women and during breastfeeding
New vegetable gelatine hardshell capsule suitable for vegetarians
Capsule delivery so contents can be easily opened and administered to children and those that have difficulty swallowing capsules or tablets


Clinicians Iron Boost may be used by menstruating or pregnant women with confidence. You may feel that you need iron because you feel tired or lethargic, but we strongly recommend you get your iron levels checked before supplementing as there may be something else going on. Clinicians MultiVitamin and Mineral Boost may be taken alongside Iron Boost to fill dietary gaps and ensure daily requirements of essential nutrients are maintained to support the body in its complex task of maintaining good health.

Iron is a trace mineral the body uses to make haemoglobin, a component of red blood cells. Red blood cells are responsible for the transport of oxygen and carbon dioxide to and from the body's tissues It also supports key enzymes involved in energy production and metabolism.

Iron deficiency is common in vegetarians, menstruating women, pregnancy, infants and the elderly. Iron deficiency is also commonly known as anaemia. Anaemia develops when the blood becomes deficient in red blood cells and haemoglobin. Iron is an essential mineral in the production of red blood cells and haemoglobin. The first signs of anaemia are pallor, weakness and a tendency to become fatigued easily. Other symptoms of iron deficiency include poor memory and thought processes, developmental delay and hair loss. Although these are all signs consistent with anaemia, people should have their blood iron levels checked before taking iron supplements.

Iron, if taken in high doses, may become toxic in the body. It may exhibit free radical activity causing damage tissues and organs and interfering with their normal function.

Natural sources of iron include liver, meat, poultry and fish. Plant sources include dried beans, vegetables, nuts and cereals. Clinicians Iron Boost contains iron and essential co-factors in a liquid base, designed to facilitate sustained uniform absorption and assimilation
Recommended Dose:

Adults: 1 Capsule daily with food.

Children: mix capsule contents with orange juice.

Note: Iron levels should always be tested before commencing iron supplementation.
Now in vege hard shell cap, making it suitable for vegetarians!
Ingredients
Carbonyl Iron (elemental iron 24mg)
Folic Acid
Vitamin B12 (as cyanocobalamin)
Vitamin C (ascorbic acid)
Also Contains: magnesium stearate, microcrystalline cellulose and silicon dioxide.
No added: gluten, dairy, yeast, sugar, artificial sweeteners, flavours or preservatives. Suitable for vegetarians and vegans.
Individuals with haemochromatosis (a condition associated with excess iron storage) should consult a health professional regarding their iron status before considering iron supplementation.

Children should only use iron supplementation under the supervision of a health professional.

Pregnancy & Breastfeeding: Clinicians Iron Boost is considered safe and well tolerated and is suitable to restore and maintaining iron stores during these times. Dosing above the recommended one capsule daily should be done under health professional supervision
Clinicians products support rather than compete with modern medicines. As medicines can deplete nutrients in the body, it was important to develop nutritional products that replenish the nutrients lost. Clinicians products, if taken on a regular basis, can also reduce the dependency on modern medicines.
Back in 1997, two pharmacists - Mike Cushman and Denis Kay - came to realise that the current pharmaceutical model was limited. Simply put, it couldn't provide the total answer to delivering wellness for their customers. Mike and Denis researched general and specific conditions to understand key drivers that triggered the imbalances that caused specific conditions. Along with this they researched the impact of modern medicines on body processes and their contribution to these imbalances.
And the result? The Clinicians product range of nutritional support. The product range developed includes not only general vitamin and mineral supplements, but also products for specific conditions and now a Works With Medicine range.