Clinicians Liposomal Vitamin D3 & K2 Liquid 30ml
This liposomal formula contains the forms of Vitamin D3 and K2 most usable to the body. These forms have been scientifically shown to work synergistically together to support bone health than either ingredient alone. Vitamin D is particularly prone to oxidation, so using liposomal technology we can improve its stability and make it more bioavailable.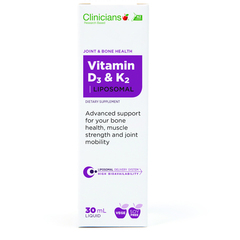 Specials are for online purchases only, don't miss out! -
Email
us to check for availability.
Vitamin D3 &K2 Liposomal Benefits
· Highly bioavailable form of D3 and K2
· Supporting bone health and function
· Muscle health and strength support
· Supporting joint health and mobility
· Supporting people who wear sunscreen, which may affect absorption of Vitamin D
· Improves stability of Vitamin D, which is prone to oxidation
· Suitable for children 4 years plus
Vitamin D3 &K2 Liposomal Features
· High bioavailability using liposomal technology
· Contains 500IU D3 and 45mcg K2 the best assimilated forms of Vitamins D and K
· Easy to take liquid.
· Once a day formula
· Natural fruit flavour
Active Ingredients
Each serve of 0.5ml contains:
Ingredients
Strength
Unit
Vitamin D

3

(cholecalciferol)

500IU

12.5

IU

mcg

Vitamin K

2

(menaquinone MK-7)

45
mcg

Also contains: Purified water, glycerin, structured sunflower seed lecithin (providing essential phospholipids including phosphatidylcholine), natural fruit flavours, acacia gum, xanthan gum, potassium sorbate
No added: gluten, dairy, sugar, artificial colours, sweeteners and flavours.
Precautions & Contraindications
Not to be taken if on blood thinning therapy, without medical advice. Vitamin K antagonizes the effects of oral anticoagulant medications and can reduce the blood thinning effects of these medications. Monitor INR levels particularly during the first two weeks of supplementation, then periodically. (Note: vitamin K at 100mcg per day does not appear to interfere with warfarin and may actually reduce INR fluctuations
Drug Interactions
Blood thinning medications
Pregnancy & Breastfeeding
Suitable for pregnant and breastfeeding women
Clinicians products support rather than compete with modern medicines. As medicines can deplete nutrients in the body, it was important to develop nutritional products that replenish the nutrients lost. Clinicians products, if taken on a regular basis, can also reduce the dependency on modern medicines.
Back in 1997, two pharmacists - Mike Cushman and Denis Kay - came to realise that the current pharmaceutical model was limited. Simply put, it couldn't provide the total answer to delivering wellness for their customers. Mike and Denis researched general and specific conditions to understand key drivers that triggered the imbalances that caused specific conditions. Along with this they researched the impact of modern medicines on body processes and their contribution to these imbalances.
And the result? The Clinicians product range of nutritional support. The product range developed includes not only general vitamin and mineral supplements, but also products for specific conditions and now a Works With Medicine range.