Dermasoft Alcohol Free Hand Sanitiser 55ml
DERMASOFT Alcohol Free Hand Sanitiser is gentle for your skin, safe, non-drying, non-irritating, non-flammable and biodegradable.
Effective, Proven, and Laboratory Tested Works Instantly and Kills 99.99% of Germs and Harmful Microorganisms on Contact Alcohol Free Gentle and Will Not Dry Out Your Skin Safe, Non Flammable, Non Toxic and Biodegradable Quick and Easy to Apply The Soft Foaming Action Provides Complete Coverage for Hands No Soap, Water or Towels needed No sticky residue Has a Unique Metered Foaming Pump – and is non aerosol Is Economical. Lasts twice as long as alcohol based gels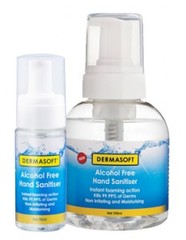 Specials are for online purchases only, don't miss out! -
Email
us to check for availability.
Did you know that over 80% of all infectious diseases are passed by human contact either directly or indirectly? In the world today we are surrounded by a multitude of bacteria, germs and viruses that can lead to mild or serious illness. With the spread of new bacterial and flu strains, hand sanitisers have become the convention for on the go hand washing. Doctors and Medical Professionals strongly recommend keeping clean hands by proper washing or using hand sanitisers. Most hand sanitisers on the market are alcohol based. These products are known to cause skin dryness, irritation and contact dermatitis. Alcohol based sanitisers are also highly flammable. DERMASOFT Foaming Sanitiser offers an alternative which is gentle, safe, non-drying, non-irritating, non-flammable and biodegradable.
Aqua, Polysorbate 20, Extracts of Aloe and Chamomile, Benzalkonium Chloride, Fragrance
Keep out of reach and sight of children. Store in a cool dry place. Discontinue use if you experience any irritations.