Enterosgel 90g
Please call us to check for stock availability
Mineral-based gastrointestinal detoxifier
For effective relief from - Indigestion - Diarrhoea - Food Poisoning
Suitable for babies, children, pregnant and breastfeeding women.
Free from sugar, sweetener, lactose, gluten, fat, colour, flavour and preservative.
In order to achieve a maximum effect, in most cases it is recommended to use Enterosgel for at least 15 days, 15g 3 times a day – i.e. 3 packages of ENTEROSGEL 225g tube.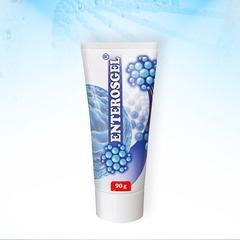 Specials are for online purchases only, don't miss out! -
Email
us to check for availability.
ENTEROSGEL– an enterosorbent – which excretes harmful substances out of the body. It is kind of "smart" sponge with pores fitting the size of molecules of harmful substances. The product does not absorb useful substances. It is important that Enterosgel is not absorbed in the mucous membrane of the gastrointestinal tract. Enterosgel passes through the digestive tract in the natural manner and adsorbs toxins, harmful bacteria and viruses; after seven hours it is excreted from the body. The effect of Enterosgel has been clinically demonstrated; it helps with common digestive problems, food poisoning and hangovers, as well as in treatment of serious systemic diseases, allergies and other illnesses that cause the body intoxication. These properties, tested for more than twenty years of study, make it an essential family product to keep in the home medical chest.
ENTEROSGEL is based on organic silicon and designed to excrete toxic substances out of the body, to regenerate microbiocenosis, and tissues of the mucous membrane and other body tissues. Its high biocompatibility is unique. Enterosgel possesses a total of the following properties:
Sorption and detoxification
Enterosgel has a firm porous granular structure (similar to that of a sponge) with specified pore dimensions, which makes it possible to bind and eliminate only toxic substances with medium molecular weight: toxic compounds, protein breakdown products, bilirubin, cholesterol, urea, creatinine. It does not affect microelements or any other useful substances.
Bactericidal properties
Enterosgel destroys pathogenic microorganisms in the gastrointestinal tract and reproductive organs (in topical use). It carries away the products of microorganism breakdown and activity. Gram-negative and gram-positive microbes and Candida moulds succumb to adhesion and destruction, but the product does not adhere to nor destroy saprophyte microflora of the digestive tract (lactobacteria, bifidobacteria, etc.). In contrast to eubiotic microflora (lactobacteria, bifidobacteria), pathogenic microflora does not have an affinity for the digestive tract, which ensures that it is drawn out of the body in the physiological manner on the surface of Enterosgel, thus dysbacteriosis symptoms reduce. Enterosgel binds and excretes rotaviruses.
Regeneration of mucous membranes
With the sorption of toxic by-products of microflora activity damaging gastrointestinal epithelium– the products of insufficient metabolism – Enterosgel creates ideal conditions for regeneration of the mucous membrane.
Increase in immune protection of the digestive tract of mucous membrane
In the intestinal lumen of the the level of immunoglobulin A, responsible for protection, increases, and the surface of the mucous membrane is protected against microorganisms penetrating into the body.
Suppression of endotoxin aggression
Use of Enterosgel reduces the level of endotoxin (lipopolysaccharide) present in gram-negative bacteria. An excess of endotoxin in the body aggaravates many pathological processes.
In order to achieve a maximum effect, in most cases it is recommended to use Enterosgel for at least 15 days, 15g 3 times a day – i.e. 3 packages of ENTEROSGEL 225g tube.
polymethylsiloxane polyhydrate - 70%, purified water - 30%
ENTEROSGEL is a patent of Swiss company Bioline Pharmaceutical AG
Bioline Products s.r.o. (Czech Republic) is the exclusive manufacturer of ENTEROSGEL®.