GO Healthy GO Slim Garcinia Gold Capsules 60
GO SLIM GARCINIA GOLD MANAGE WEIGHT, APPETITE AND CRAVINGS
Supports appetite management and helps to manage cravings.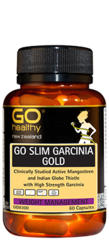 Specials are for online purchases only, don't miss out! -
Email
us to check for availability.
GO SLIM GARCINIA GOLD is our premium weight management product. The three ingredients Mangosteen, Garcinia and East Indian Globe Thistle work together synergistically to manage weight, appetite and cravings. GO Slim Garcinia Gold is a stimulant free formula that supports healthy fat metabolism, and provides support for optimal weight management.
Dose: Adults: Take 1 Capsule 30 minutes before 2 main meals of the day (2 Capsules daily).
Mangosteen (Garcinia mangostana) (1,000mg)
East Indian Globe Thistle (Sphaeranthus indicus) (3,000mg)
Garcinia cambogia (7,200mg)