Invisible ESP 50ml
ESP™ (Environmental Skin Protector) MOISTURISER SPF 30+ UVA - UVB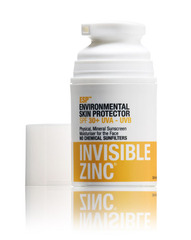 Specials are for online purchases only, don't miss out! -
Email
us to check for availability.
A daily facial moisturiser with SPF30+ and zinc oxide protection. ESP™ (Environmental Skin Protector) is a remarkable high performance sunscreen + daily moisturiser containing an anti-pollution film to assist in neutralising environmental pollutants, chemicals and smoke.
FEATURES
3-in-1 (zinc sunscreen, daily facial moisturiser, anti-pollution film)
Light, non-greasy
Easily absorbed
Micronised zinc oxide
BENEFITS
Feels like a moisturiser
Light, silky and comfortable
May assist in diminishing the look of fine lines
High UVA & UVB protection
TIPS
For flawless buildable coverage that goes from day to night use with Invisible Zinc UV Silk Shield Foundation
USE ONLY AS DIRECTED. ALWAYS READ THE LABEL. AVOID PROLONGED UV EXPOSURE AND ALWAYS WEAR PROTECTIVE CLOTHING, HATS AND EYEWEAR WHEN EXPOSED TO THE SUN.
ZINC ABOUT IT…
The next time you think sunscreen, think Invisible Zinc.Think Invisible Zinc because there's only one active ingredient, naturally sourced Zinc Oxide – a mineral reflector that creates a physical, reflective barrier on the surface of your skin.Invisible Zinc contains no chemical sun filters, is suitable for sensitive skin, and gives you incredible broad spectrum protection from the sun's rays.
Invisible Zinc isn't the zinc you grew up with. It's light and rubs in clear, so you won't even know you've got it on.
Better still, it's made in Australia for the Australian sun.
So the next time you think sunscreen, think zinc.
Think Invisible Zinc.