Karicare Aptamil Pepti-Junior GOLD 450g
Infant formula for food allergies or malabsorptive conditions
For Delivery in New Zealand only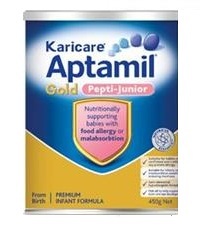 Specials are for online purchases only, don't miss out! -
Email
us to check for availability.
Aptamil Gold Pepti Junior is an all ages infant formula designed for the dietary management of formula-fed infants with confirmed mild to moderate/non-anaphylactic cows' milk and soy protein allergy or malabsorption. It is suitable from birth onwards and when a partial or total breast milk substitute is required.

Nutritionally complete for formula-fed infants 0-6 months. Or for use in a mixed diet for infants 6-12 months, and toddlers older than 12 months.

Specially developed and researched for formula-fed infants with confirmed food allergies and intolerances such as cows' milk and soy protein allergy as well as malabsorptive conditions, including diarrhoea.

A formula with extensively hydrolysed (broken down) cows' milk protein which has been broken down to small peptides, so it is easier to tolerate and digest.
How to prepare Aptamil Gold Pepti Junior
Our easy-to-follow guide shows you how to prepare a feed safely using our powder formula.

Wipe clean all surfaces and wash your hands before preparing a feed.
Wash and sterilise bottles and teats or sipper cups thoroughly by boiling or using approved steriliser.
Boil safe drinking water and leave to cool.
Measure the required amount of cooled boiled water into a sterilised bottle or sipper cup. Warm to feeding temperature.
1 scoop per 30mL water.
Do not use repeatedly boiled water.
For accurate amount, always use the scoop provided and level off powder with a clean, dry knife. Do not press extra powder into the scoop.Add the correct measure of powder to the water. Adding too many or too few scoops can be harmful.
The feeding instructions on the pack will give you an indication of the number of feeds your baby may need per day.
Always add one level scoop of powder for each 30mL of water.
Screw the cap on the bottle or sipper cup and shake well to dissolve the powder.
Test the temperature of the formula by allowing some drops to fall on your wrist. If it feels comfortable, it should be just right for your baby.
Use made-up feeds immediately.
Discard any leftover formula, wash bottles and teats or sipper cups and re-sterilise, ready for the next feed.


Prepare each bottle separately. For all brands of formula, it is safer to use immediately after they are prepared.
Aptamil Gold Pepti Junior is specially designed for formula-fed babies with a confirmed cows' milk protein or soy protein allergy
Aptamil Gold Pepti Junior is a unique formula containing cows' milk proteins which have been broken down (hydrolysed) into small peptides, making them easier for babies to tolerate and digest
Aptamil Gold Pepti Junior is based on 100% whey rather than casein, which forms a softer curd in the stomach so that it is easier to digest.
Fish oil (Omega 3 and Omega 6 Long Chain Polyunsaturated fatty acids LCPs) to help support brain and eye development
Consult your healthcare professional before use.