Kolorex Foot & Toe Care Cream 25g tube
Herbal Cream with Active Horopito
For Healthy Attractive Feet and Toes.
Product of New Zealand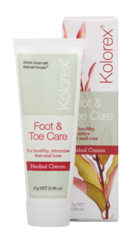 Specials are for online purchases only, don't miss out! -
Email
us to check for availability.
When our feet get hot, or exposed to damp surfaces the skin can appear unsightly, especially between the toes. This cream contains the strongest Active Horopito and tea tree oils to deep cleanse, Aloe and vitamin E to condition, and lactic acid to promote balanced pH.

Forest Herbs Researched Limited
The key to the effectiveness of Kolorex is high activity specimens of the traditional New Zealand herb, Horopito (Pseudowintera colorata). These are grown organically on Forest Herb's own farm, set in a temperate rainforest adjacent to a million acres of pristine National Park. The leaf is carefully harvested and dried, and then undergoes a patented extraction process to produce a potent, reside free extract of Active Horopito, rich in natural activity.
Each batch of Active Horopito (pseudowintera colorata) leaves must pass an independent test for activity prior to use. Forest Herb's combines tradition with science to make available to the world the benefits of plants from New Zealand's unique environment.
Apply to feet or toes 2-3 times daily.
Water (aqua), cetyl alcohol, apricot (prunus armeniaca) kernel oil, tea tree (melaleuca alternifolia) leaf oil, cetearyl alcohol, ceteareth-20, Active Horopito(Pseudowintera colorata) leaf extract, lemon tea tree (leptospermum petersonii) leaf oil, natural vitamin E (tocopherol acetate), aloe vera (aloe barbadensis) leaf extract 200:1, potassium sorbate, lactic acid.
Free from synthetic preservatives
Free from mineral oils
Free from synthetic fragrances
Free from parabens
Free from animal testing