Lacteeze Extra 100 Tablets
ENJOY DAIRY AGAIN WITH LACTEEZE - NO NEED TO CHANGE YOUR DIET! LACTEEZE lactase enzyme supplements ease symptoms immediately!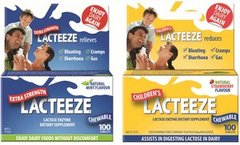 Specials are for online purchases only, don't miss out! -
Email
us to check for availability.
Lacteeze:
* Replaces the body's supply of lactase enzymes so that dairy products can be digested naturally without unpleasant symptoms.
* Has been shown to reduce crying time in babies with transient lactose intolerance by at least 45% *
* Enables mothers to continue breast feeding even when their baby is lactose intolerant
is not a drug or medicine – it is a natural enzyme that is normally found in the digestive system
* Is gluten free, dairy free and the tablets are yeast free
* Is safe from birth onwards
LACTEEZE Extra Strength tablets provide a natural source of the digestive enzyme lactase, allowing you to digest the lactose in dairy products without unpleasant symptoms such as bloating, flatulence and cramps.
LACTEEZE Extra Strength tablets are suitable for adults and are chewable with a natural mint flavour.
Simply chew 1-3 tablets immediately before consuming dairy products. The effect of the tablets is temporary - maximum 1 hour. If after 1 hour you want to consume more dairy, you should repeat the dose.
Dextrose, microcrystalline cellulose, lactase (4,000 FCC lactase units), calcium stearate and natural mint flavour.
Gluten free / dairy free / no preservatives, artificial colours or flavours.