Lunette Reusable Menstrual Cup (model 1)
Model 1 - light to normal flow (varied colors)
The Lunette menstrual cup is bell-shaped cup that gives you a comfortable, safe, odorless and eco-friendly period for up to 12 hours a day.
It's also reusable and lasts several years meaning less time, money and stress!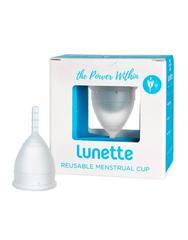 Specials are for online purchases only, don't miss out! -
Email
us to check for availability.
The Lunette menstrual cup is the future of period care.
Less spending: Ditch the regular dash to the store and protect your purse strings with the best reusable choice that lasts several years.
Healthier you: Lunette menstrual cups collect fluids rather than absorbing them, keeping your superior interior naturally lubricated and healthy.
Happier planet: No more endless purchases, plastics and packaging. Every period with your reusable Lunette menstrual cup is a winning vote for the environment.
More control: Unlike tampons, you never "run out" of Lunette. Like an invisible sidekick it runs around with you either in a handy, cute pouch or sitting comfortably inside you. Meaning you can say goodbye to the worry, the hassle, the leaks and just live your life.
The Lunette menstrual cup fits nice and snug, held in position by the seal formed by the walls of the vagina and the vaginal muscles. Your interior is superior and does all the work — you'll barely feel a thing!
The cup is placed entirely inside the lower part of the vagina, just behind the pubic bone below the cervix.
Vaginas are tilted backwards, so guiding the cup towards the small of your back, moving it up and down will help you find the correct and comfortable position.
Rotate the cup to check that it has fully opened and doesn't leak. Your cervix may move during menstruation, so inserting the cup requires practice and knowledge of your own anatomy.
Made with body-safe silicon.
Chemical and BPA-free.
Our mission is to have honest and inspiring conversation about menstruation so that we can motivate period positivity- and change the world one cup at a time.
Lunette is so much more than a cup.
It's a lifestyle
It's a community
It's the future.