NZ Medical Testing Instant Screen Saliva Drug Testing Kit 6 Tests
**Supplier out of stock - Please email us for updates** [email protected]
NZ Medical Testing - Instant Screen Saliva Drug Testing Kit 6 Tests Real time personal impairment screening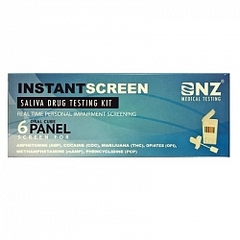 Specials are for online purchases only, don't miss out! -
Email
us to check for availability.
Saliva Drug Tests
Method/process: An absorbent collector is put in the mouth or on the tongue.
Used by: Workplace.
Detection time after last use: Cannabis 3 to 4 hours, amphetamines 12 to 24 hours, cocaine 4 hours and possibly longer, MDMA (ecstasy) 12 to 24 hours. Detection times for opiates and benzodiazepines are currently unknown.
This test screens for:
Amphetamine (AMP)
Cocaine (COC)
Marijuana (THC)
Opiates (OPI)
Methamphetamine (mAMP)
Phencyclidine (PCP)

1) Remove test device from sealed pouch. Remove collector cap and pull out collection stick from the cube.

2) Insert sponge end into mouth and gently chew for approx 3 minutes. (sponge should be soft and saturated with saliva)

3) Remove collector from mouth and insert with gentle pressure into collection cube, placing groove on collector into guide rail of test cube. Exert sufficient pressure to enable lid to close.

4) Place on a flat surface.

5) Wait for coloured lines to appear in test windows. Read after 10 minutes.

Do not read results after one hour.