OGILVIE Home Perm Colour Treated, Thin or Delicate Hair
This improved formula provides gentler, more effective salon results at home. This complete conditioning formula safeguards your hair from dryness and frizzies while ensuring lasting shine and curls - even for color-treated, thin or delicate hair. The B4 pre-perm conditioner gently prepares your hair for a natural-looking perm. Restorative after-perm conditioners balance your hair's moisture level for silkier hair and soft, manageable curls and body that lasts.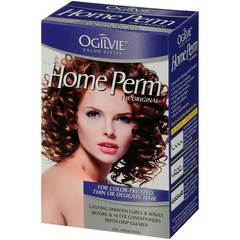 Specials are for online purchases only, don't miss out! -
Email
us to check for availability.
Appropriate for all hair types, but not recommended for hair that is highlighted, frosted, bleached or previously straightened with relaxers containing lye or guanidine carbonate.
One application
New fresh scent
Now with drip guard
Contains:
B4 pre-perm conditioner
Curling lotion with fresh scent
Instant creme neutralizer
Large salon end-papers
Leave-in conditioner
Drip guard
Step-by-step instructions
Made in USA
Keep out of reach of children. May be harmful if swallowed. If ingested accidentally, drink several glasses of water to dilute the material. Contact a physician or poison control center immediately. Do not induce vomiting. Do not wear contact lenses while using this product. Avoid getting No-Drip Curling Foam in eyes or on skin. If contact with the eyes or skin occurs, immediately flush area with large amounts of cool water for at least 15 minutes. If irritation persists, consult a physician.