Opti-Free Replenish Solution 120ml
OPTI-FREE Replenish Contact Lens Solution features a unique formula that helps maintain a shield of moisture between your contact lens and your eyes, for up to 14 hours of moist lenses.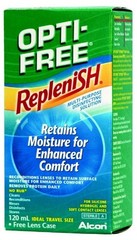 Specials are for online purchases only, don't miss out! -
Email
us to check for availability.
When you contact lens are soaked in OPTI-FREE Replenish contact lens solution, the lens surface is reconditioned by the TearGlyde proprietary system. TearGlyde allows the lens surface to retain a thin layer of moisture from your tears, keeping lenses moist for up to 14 hours. This shield of moisture allows many lens wearers to experience clearer vision at the end of the day, and may help maintain the appearance of your eyes, keeping them free from redness.
In addition to all-day lens comfort, OPTI-FREE Replenish Contact Lens Solution offers a high level of disinfection against both bacteria and fungi.
Sodium citrate, sodium chloride, sodium borate, propylene glycol, TearGlyde proprietary reconditioning system (Tetronic 1304, nonanoyl ethylenediaminetriacetic acid) with Polyquad (polyquaternium-1) 0.001% and Aldox (myristamidopropyl dimethylamine) 0.0005% preservatives.