Oxysept Hydrogen Peroxide Disinfecting System
Oxysept is a Hydrogen peroxide disinfecting solution, neutralizing system for all soft contact lenses, with built-in lubricant for enhanced comfort. This 1-step cleaning solution is hassle-free and will leave your contact lenses sparkling clean. This solution is not hard to use and has genuinely good effects for the user. Wake up and put fresh clean contacts in your eyes so you can ENJOY LIFE
72 day usage.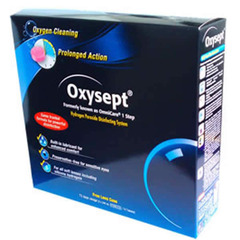 Specials are for online purchases only, don't miss out! -
Email
us to check for availability.
3 x 240 mL disinfecting system

1 x lens case

72 x hydrogen peroxide neutralizing tablets
•Built-in lubricant for enhanced comfort
•Preservative-free for sensitive eyes
•For all soft lenses including silicone hydrogels
Powerful Disinfection - Oxysept offers you unique:
Oxygen Cleaning:
•Peroxide breaks protein and lipid bonds on lens surface
•During the neutalization process, oxygen bubbles are formed enabling debris to be dislodged
Prolonged Action:
•Prolonged exposure to 3% hydrogen peroxide ensures powerful disinfection and protection against a broad range of bacteria and microorganisms including Acanthamoeba
Enhanced Comfort for Healthy Lens Wearing
•HPMC, a built in artificial tear lubricant for enhanced comfort
•Preservative-free for sensitive eyes
•No rub formula
•Vitamin B12 natural colour indicator for safety and reassurance
Functions of Hydrogen Peroxide Neutralizing Tablet:
•Vitamin B12 - Tablet coating contains Vitamin B12 which is an essential nutrient for ocular health
•Pink colour indicator - Natural Vitamin B12 turns the peroxide solution pink to indicate neutralization. A new tablet every day eliminates residual hydrogen peroxide that may cause irritation to the eyes
•Powerful Disinfection Due to Delayed Neutralisation - Tablet coating dissolves slowly to extend disinfection time
Sodium chloride, sodium phosphate dibasic anhydrous, sodium phosphate monobasic anhydrous, polyethylene glycol 3350, cyanocobalamin (Vitamin B12), hypromellose, catalase: 0.1mg)
Formerly known as OmniCare 1 Step. Hydrogen Peroxide Disinfecting System.
Same trusted formula for powerful disinfection.