Solgar Amino 75 30's V
8 essential amino acids Easily digested Pharmaceutical grade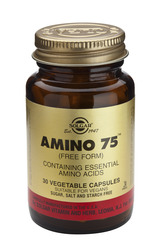 Specials are for online purchases only, don't miss out! -
Email
us to check for availability.
Amino 75 provides 8 essential amino acids to support those with poor protein intake such as vegans or vegetarians, dieters or those in need of extra amino acids such as sportspeople, those recovering from illness or with seriously impaired digestion. The amino acids in Amino 75 are free form which means they are unbound to other compounds and are easily absorbed and utilised in the body.
As a food supplement for adults, one (1) Vegetable Capsule daily with juice or water in between meals, or as directed by a healthcare practitioner. Always read the label and use as directed. Vitamins are supplementary to a balanced diet. If symptoms persist consult your healthcare professional. TAPS PP5354
Each vegetable capsule provides: L-Lysine (as L-Lysine HCI)75mg L-Histidine75mg L-Isoleucine75mg L-Leucine75mg L-Methionine75mg L-Phenylalanine75mg L-Threonine75mg L-Valine75mg Encapsulated with these natural ingredients: microcrystalline cellulose, hydroxypropyl cellulose, magnesium stearate. Vegetable capsule shell: hydroxypropylmethyl cellulose.
If you are pregnant, nursing, taking medication, or have a medical condition, consult your healthcare provider before taking this product. Always read the label and use as directed. All Solgar dietary supplements are supplementary to, and not a replacement for a balanced diet. If symptoms persist consult your healthcare professional. TAPS PP8189