Solgar Lactase "3500" 30 Chewable Tablets V
Supports milk product digestion Chewable tablets Natural vanilla flavour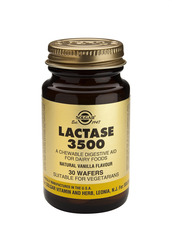 Specials are for online purchases only, don't miss out! -
Email
us to check for availability.
These chewable tablets provide the natural enzyme lactase - essential for the digestion of lactose in milk products. Many adults and children are lactose intolerant meaning they have a deficiency of lactase in their digestive systems, and eating dairy products can lead to unpleasant digestive disturbances. Taking Lactase along with foods containing dairy products such as milk, cream and cheese provides added digestive support for the proper breakdown of the lactose in these foods. Contain natural vanilla flavour. Tablets may be crushed and added to food.
As a food supplement for adults, one (1) wafer with, or just prior to dairy food consumption, or as directed by a healthcare practitioner. Always read the label and use as directed. Vitamins are supplementary to a balanced diet. If symptoms persist consult your healthcare professional. TAPS PP5354
Each chewable wafer provides: Lactase 38 mg (providing-3500 FCC Lactase Units - FCC Lactase Units are based on the U.S. Food Chemicals Codex) Tableted with these natural ingredients: mannitol, vegetable cellulose, guar gum, magnesium stearate, natural vanilla bean flavour.
If you are pregnant, nursing, taking medication, or have a medical condition, consult your healthcare provider before taking this product. Always read the label and use as directed. All Solgar dietary supplements are supplementary to, and not a replacement for a balanced diet. If symptoms persist consult your healthcare professional. TAPS PP8189