Solgar Solgar No. 7 30's V
For the first time, natural science at Solgar combines the advanced and naturally sourced bio-activity of 5-Loxin® Advanced(AKBA), UC-II® un-denatured (active, whole and complete) Collagen, and Ester C®, with a complex of traditional pepper spices and botanicals. Solgar's advanced bio-actives target both structure and function of natural joint motion to help balance out joint stresses, daily wear and tear and the "overworking" of an active lifestyle.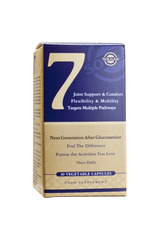 Specials are for online purchases only, don't miss out! -
Email
us to check for availability.
Shows Improvement in Joint Comfort within 7 days¹* Solgar® No. 7 is the next generation alternative after glucosamine that increases mobility, flexibility and range of motion in sensitive joints.* In this breakthrough formulation, No. 7 brings together bio-active nutrients that work to create a fast acting approach for occasional 'tweaks' and joint stresses brought on by exercise, sport or physical activity. With increased mobility and flexibility, Solgar® No. 7 can help you to pursue the activities you love and get back on track…fast. Feel the difference for yourself. Solgar® No. 7 shows improvement in joint comfort…within 7 DAYS.¹* ¹This statement is based on two human studies of 5-LOXIN Advanced™ using subjective measures in which participants rate their joint health. In these studies, after 7 days, improvement continued to be seen, including in biomarker analysis.
Adults, take one (1) vegetable capsule daily, or as directed by a healthcare practitioner. Always read the label and use as directed. Vitamins are supplementary to a balanced diet. If symptoms persist consult your healthcare professional. TAPS PP5354
Serving Size: 1 Vegetable Capsule Amount Per Serving % DV Vitamin C (as Ester-C®, calcium ascorbate) 100 mg 167% 5-Loxin Advanced™ (Boswellia serrata Extract [resin]) 100 mg ** Turmeric Root 4:1 Extract (Curcuma longa) (equivalent to 200 mg of root) 50 mg ** UC-II® Standardized Cartilage (providing 10 mg Undenatured Type II Collagen) 40 mg ** White Willow Bark 5:1 Extract (Salix alba [bark]) (equivalent to 175 mg of bark) 35 mg ** Ginger Root 4:1 Extract (Zingiber officinale) (equivalent to 140 mg of root) 35 mg ** Pepper Spice Complex Cayenne Powder (Capsicum annuum [fruit]), Bioperine® (Black Pepper Extract) (Piper nigrum [fruit]) 27 mg ** **Daily Value (DV) not established FREE OF: Gluten, Wheat, Dairy, Soy, Yeast, Sugar, Sodium, Artificial Flavor, Sweetener, Preservatives and Color.
If you are pregnant, nursing, taking medication, or have a medical condition, consult your healthcare provider before taking this product. Always read the label and use as directed. All Solgar dietary supplements are supplementary to, and not a replacement for a balanced diet. If symptoms persist consult your healthcare professional. TAPS PP8189