USL First Aid Kit Everyday 2 litre plastic container
A First Aid Kit designed for general purpose either with the sports team- home – car and workplace in mind. Assembled in a durable plastic container.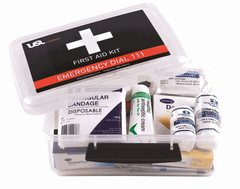 Specials are for online purchases only, don't miss out! -
Email
us to check for availability.
Contents: First Aid 2 Litre Plastic (1) Safety Pins 39mm 12's (1) Eye Pads Sterile Single (2) Non-Adherent Pad 5cm x 7.5cm (2) Non- Adherent Pad 7.5cm x 10cm (2) Island Dressing 10cm x 6cm (1) Island Dressing 7cm x 5cm (1) Conforming Bandage 5cm (1) Conforming Bandage 7.5cm (1) Splinter Probe (1) Combine Dressing 10cm x 10cm (1) Skin Closure Omnistrip 3mm x 76mm (1) Chemilon Antiseptic Cream 125gms (1) Dermaplast Waterproof Plasters 40/pkt (1) Gauze Swabs St 7.5cm x 7.5cm 2's (2) Stainless First Aid Scissors 12.5cm (1) Hepatitis B Sticker (1) Glove Disposable Pair (2) First Aid Hints Card (1) CPR Face Shield (1) First Aid Forceps (1) Triangular Bandage (1) Heelband 6cm x 1m (1) Saline Solution 15mls (2) Wound Dressing No 14 (1) Accident Blanket (1) Wound Cleansing Wipes (4) Omniplast Tape 12mm (1) USL Paper Tape 25mm (1) Specimen Bag (1) Crepe Bandage 5cm (1) Notebook (1) Pencil (1)