Vicks Warm Steam Vaporizer
Vicks Vaporizer is a natural product which can be used to treat cough, cold, fever and flu. ** Please note that it comes empty, you will need to purchase the Vicks Vapo Steam Inhalant Separately.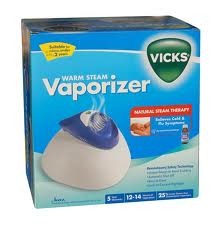 Specials are for online purchases only, don't miss out! -
Email
us to check for availability.
Features:
All night relief for cold, flu & croup symptoms
Revolutionary safety technology
Gentle, natural steam therapy
Safer: 25% cooler steam to avoid scalding
Water boiled to produce bacteria free steam
Automatic shut-off
Easy to clean
Lock-on cap and nightlight
12-14 hour operation per filling
No special water required
Full 5 year warranty
Suitable for children under 2 years
Water is one nutrient that all forms of life must have to survive. All functions of your body require sufficient moisture to work properly. When your body does not have sufficient moisture, it functions poorly. Dry, arid and climatic conditions are usually the culprit. Colds and flu can cause further dehydration.
Colds and flu start making their seasonal rounds during autumn and winter. Part of the reason for increased respiratory illnesses during this time is because the humidity level in the air reaches its yearly lows. Heating homes and offices further removes moisture from the air. The relative humidity may drop to as low as 10% - drier than the air in the Sahara desert. Most people experience problems when the relative humidity drops below 25%. A comfortable humidity level should not be higher than 50%.
The Vicks Vaporizer is easy to use. Fill the water container to the MAX water level. For added comfort, pour Vicks VapoSteam directly into the water or into the vaporizer cup. Place the vaporiser into position, plug in and switch on power.