Blackmores Krill Oil 1000mg 30
Supporting all the benefits of a super strength krill oil sourced sustainably
Blackmores Eco Krill is the only krill oil certified sustainable by the Marine Stewardship Council and WWF. This exclusive high phospholipid extract provides omega-3s for brain, heart & eye health. For more information visit http://www.blackmores.com.au/eco-krill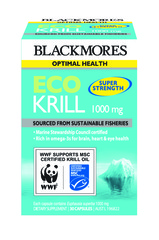 Specials are for online purchases only, don't miss out! -
Email
us to check for availability.
*Marine Stewardship Council (MSC) certified, recognised by WWF as the most rigorous certification available
*Sourced from sustainable fisheries
*Rich in omega-3s to support brain, heart & eye health
*Exclusive high phospholipid extract
*High grade due to its high phosphatidylcholine concentration
*Choline plays a role in fat and cholesterol transport and metabolism
*Omega-3s have anti-inflammatory properties

Krill plays an important role in the ocean and is a food source for many ocean creatures such as whales, seals and penguins. That's why it is important to ensure the sustainability of krill in our oceans. Blackmores has a commitment to achieve the highest standard of sustainable sourcing. We have worked closely with the Marine Stewardship Council (MSC) to ensure our Eco Krill 1000 mg only uses krill sourced from sustainable fisheries.
Krill oil provides phospholipids which research suggests have a beneficial effect on omega-3 fatty acid absorption.
Marine Stewardship Council certification of sustainability is supported by the WWF and recognised as the most rigorous certification available.
Adults: take 1 capsule a day with a meal, or as professionally prescribed.
Children under 12 years: Only as professionally prescribed.
Euphausia superba (Krill Oil) 1000 mg
Equivalent phosphatidylcholine 450 mg
Equivalent eicospentaeonic acid (EPA) 140 mg
Equivalent Docosahexaenoic acod (DHA) 65 mg
No added yeast, gluten, wheat, preservatives, artificial colours or sweeteners.
This product is derived from crustaceans - those allergic to seafood should exercise caution.
Blackmores, a leading natural health brand, improves peoples' lives by delivering the world's best natural health solutions, to become peoples' first choice in healthcare. We achieve this by translating our unrivalled heritage and knowledge into innovative, quality branded healthcare solutions that work. Our high quality products, reliable free naturopathic advisory service and award-winning website are among the many reasons Blackmores is the most trusted name in natural health.