Blackmores Omega Triple Concentrated Fish Oil 150 Cap
Blackmores Omega Triple concentrated fish oil has 3X the omega-3's of a standard 1,000 mg fish oil capsule (contains EPA 180 mg and DHA 120 mg) which you to take less capsules and give relief of rheumatoid arthritis symptoms. (Vanilla flavoured)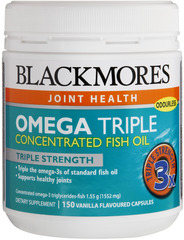 Specials are for online purchases only, don't miss out! -
Email
us to check for availability.
Features & Benefits:
*Reduce joint swelling & inflammation in rheumatoid arthritis
*Promote brain health
*Support cognitive function with ageing
*Promote heart health
*Highly purified and rigorously tested for quality
*Odourless, vanilla flavoured capsules
*No artificial surfactants
*Mercury, dioxin, PCB tested


Additional Information:
The National Health and Medical Research Council recommends daily intakes of 610 mg for men and 430 mg for women of omega-3 fatty acids (EPA and DHA + DPA) for health maintenance.

Heart health
Omega-3s may support heart health by the maintenance of the suppleness and elasticity of blood vessels, helping support blood flow and also by assisting the maintenance of triglycerides (fats) within the normal range in the blood of healthy people. Populations consuming at least 1-2 meals of fish per week have reduced deaths due to cardiovascular disease.

Brain, nervous system and eye health
EPA and DHA are important for the structure and function of cell membranes. Omega-3 fatty acids are particularly rich in the brain, nervous system and retina where they play an important role in development and function. They support a healthy mood and higher intakes of omega-3s are associated with less age-related mental decline.

Joint health
Omega-3 fatty acids have also demonstrated anti-inflammatory effects which may be due to decreased production of certain inflammatory compounds. At higher doses, omega-3 fatty acids are thought to help relieve the symptoms of rheumatoid arthritis (including helping reduce morning stiffness, pain and swelling. )
Adults:
As an omega-3 supplement - Take 1 capsule a day with food, or as professionally prescribed

For arthritis - Take 1 capsule 3 times a day with food, or as professionally prescribed

Children 6-12 years - Take 1 capsule a day (pierce and squeeze into milk, juice or cereal), or as professionally prescribed.

Children 2-6 years - Only as professionally prescribed.

If symptoms persist see your healthcare professional
Active Ingredients:
Each Capsule Contains:

Concentrated omega-3 triglycerides-fish 1.55 g (1550 mg)
Containing omega-3 marine triglycerides 900 mg as:
Eicosapentaenoic acid (EPA) 528 mg
Docosahexaenoic acid (DHA) 372 mg

No added yeast, gluten, wheat, milk derivates, preservatives, artificial colour or sweeteners.
*If symptoms persist, see your healthcare professional.
*High doses of fish oil (more than the recommended 3 capsules per day) should not be taken in the week before surgery
*High doses of fish oil (more than the recommended 3 capsules per day ) may increase the risk of bleeding with blood thinning medications