Imodium 8 capsules
Imodium provides fast and effective relief from the symptoms of diarrhoea including loose stools, stomach cramping and pain. Imodium acts quickly to restore normal bowel function.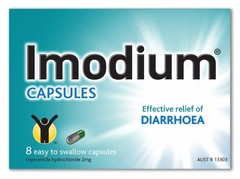 Specials are for online purchases only, don't miss out! -
Email
us to check for availability.
Imodium allows you to continue your planned daily activities with confidence. Imodium comes in capsule-shaped tablets and is available in packs of 8 or 20.
Adult dose: 2 caplets initially, followed by 1 caplet after each loose unformed stool as needed. Maximum of 8 caplets per day. If diarrhoea persists beyond 48 hours see your doctor.
Loperamide Hydrochloride 2mg
Keep out of reach of children.
Should you have a fever or notice blood in your stools consult your doctor beofre using Imodium.
Do not use in pregnancy or lactation except on a doctor's advice.
Do not give to children under 12 years of age.
Store below 30°C.