Nair Cream Hair Bleach for Face and Body 35g
A fast acting, cream bleach that will lighten hair so that it blends with your natural skin tones. It works in as little as 7 minutes without unpleasant smells. The creamy texture ensures no flaking or drying out during treatment. Enhanced with soothing Baby Oil and Vitamin E, it leaves the skin moisturised and soft.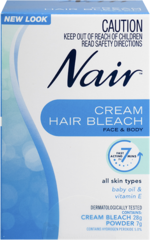 Specials are for online purchases only, don't miss out! -
Email
us to check for availability.
Important Tips
Prior to using this product, always make a preliminary patch test to check for any allergic/sensitive reaction.

Simply mix a small amount of the product, as described in the directions and apply on a small patch of skin on the area where hair is to be lightened.
Leave it on for 7 minutes and wash the area with cold water.
Wait another 24 HOURS.
Do not use if redness, irritation, or eruption appears.
If the skin appears normal, use bleach as directed.
Over time, it is natural for the Accelerator Powder to clump together. Use the (clean) spatula to mix powder if this occurs.
Clean spatula and mixing tray thoroughly with soap and water when finished bleaching.
Do not return mixed ingredients to jar or vial. Always close both jar and vial after use; store in a cool place.
Do not use Nair Cream Hair Bleach immediately after a hot bath. Do not apply if skin has cuts or abrasions. Do not expose bleached area to sunlight for at least 24 hours after application.
Use caution to ensure that Nair Cream Hair Bleach, like any other product containing bleach, does not come in contact with clothing, upholstery or carpeting.
Bleaching Directions
Bleaching Directions
Step 1 - Cleansing the Skin
Wash area to be bleached with soap and cold water; pat dry.
Step 2 - Preparing the Mixture
To prepare mixture, using spatula, measure 1 full spatula of powder and pour into the mixing cup. Clean spatula.
Measure 2 full spatulas of cream and add to mixing cup. (For larger areas, mix 1 part accelerator powder to 2 parts cream bleach on a glass or china plate).
Blend powder and cream well with spatula.
Step 3 - Applying the Bleach
Apply mixture on the area to be bleached gently with spatula. Make sure you cover hair completely. DO NOT RUB IN.
Leave mixture on for 7 MINUTES.
Check hair after 7 minutes by removing a small section of bleach with spatula. If hair should require further lightening, reapply mixture to that section and leave on for another 5 minutes.
Step 4 - Cleaning off the Bleach
Wash bleached area with cold water and pat dry.
Clean spatula and mixing tray thoroughly with soap and water.
CAUTION: Do not apply the product after a hot bath or in a steam filled room or over deodorants. Open pores can create sensitivity. Do not expose bleached area to strong or prolonged sunlight for at least 24 hours after application. Do not apply if skin has cuts or abrasions; postpone use until skin is fully healed. Do not use near eyes or other sensitive areas. If product comes in contact with eyes, rinse immediately with cold water. Do not prepare the mixture until you are ready to start treatment. Do not use metal dishes or applicators with cream bleach. Do not return any unused portion of mixture to jar or vial, or store in any way. Discard after use. Always keep jar and vial tightly closed and stored in a cool place.

WARNING: Irritation or allergic reaction may occur with some people even after prior use without adverse effect. Therefore test before each use by applying Nair on a small patch of skin on the area where hair is to be lightened. Follow directions and wait 24 hours. If skin appears normal, proceed with full application. If skin feels tender or irritated after application, remove mixture immediately. After waiting 24 hours, you may wish to try a milder mixture by adding more bleach cream to the mixture. If skin persists in being sensitive, do not use again.

KEEP OUT OF REACH OF CHILDREN.
NAIR™ offers a full-range of high quality easy-to-use products. Get gentle salon-quality hair removal that leaves your skin smooth and radiant days longer than shaving.