Aquae dry mouth spray 100mL
Relieve and refresh a dry mouth with Aquae Dry Mouth Spray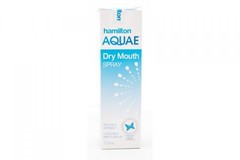 Specials are for online purchases only, don't miss out! -
Email
us to check for availability.
Aquae is a natural saliva replacement for dry mouth that restores natural moisture and lubrication to the mouth, assisting in the ability to speak, chew and swallow, and improves the feel of dentures.

Aquae is buffered to a neutral pH 6.0-6.5 to reduce the risk of demineralisation of the teeth that may be caused by a low pH.

Dry mouth may be caused by the natural ageing process, a range of illnesses, medications and radiation therapy of the head or neck.

Aquae is non-medicated so can be used as often as required. It has an ultra mild mint flavour and is free from sugar, gluten and alcohol. Aquae is suitable for use during pregnancy and breast feeding.
Aqua should be held 2-3cm from the mouth and aimed carefully. Spray 1-2 times into the mouth or as instructed by your phusician. Aqua may be used as often as needed.
Calcium Chloride0.14 MG
Carmellose Sodium10 MG
Magnesium Chloride0.06 MG
Potassium Phosphate Monobasic0.34 MG
Sodium Chloride0.84 MG
Sorbitol Solution42.86 MG
Always read the label, use only as directed and if symptoms persist, consult your doctor.