BEROCCA Performance 50+ Effervescent Tablets 30
Berocca Performance 50+ is a performance multivitamin tailored to help meet the needs of those aged 50 years and over. It is designed for active, health conscious people to help them make the most of life and its fresh challenges.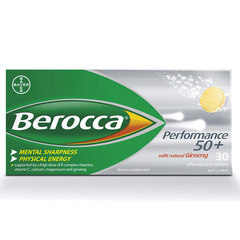 Specials are for online purchases only, don't miss out! -
Email
us to check for availability.
Berocca Performance 50+ helps deliver essential vitamins and minerals including calcium, magnesium and zinc for day-to-day nerve functioning. With added natural ginseng, Berocca Performance 50+ provides a sustained nutrient supply for body and mind.
Ginseng is an herb that has been used in China for over 2,000 years. Panax ginseng is one of the most extensively researched ginsengs. Berocca Performance 50+ with Panax ginseng has invigorating properties to help strengthen mental and physical vitality and well-being. Taken daily, Berocca Performance 50+ may help improve concentration, clarity and stamina throughout the day, every day. Berocca Performance 50+ helps provide the focus needed to achieve the things that are important.
It is suitable and recommended for daily use.
Dosage:
Adults -1 tablet, dissolved in a glass of water. Taken daily or as directed by your doctor.
EACH TABLET CONTAINS
Vitamin B1 15 mg
Vitamin B2 15 mg
Vitamin B3 50 mg
Vitamin B5 23 mg
Vitamin B6 10 mg
Vitamin B12 10 µg
Vitamin C 500 mg
Vitamin H 150 µg
Folic acid 400 µg
Calcium 100 mg
Magnesium 100 mg
Zinc 10 mg
Ginseng 250 mg
Berocca: Vitamin supplements should not replace a balanced diet.

Berocca is suitable and recommended for daily consumption by the general population. If you are concerned, or suffer from any medical conditions, we recommend you speak to a healthcare professional.