BioCeuticals Lactoferrin Plus SB 60 capsules
Please contact us for pricing. Otherwise, pricing will be emailed to you once order is placed.
Uncomfortable symptoms below the belt? SB Floractiv provides symptomatic relief of antibiotic-associated diarrhoea, traveller's diarrhoea and candidiasis (thrush).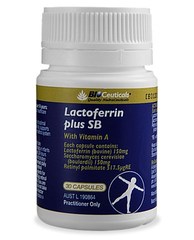 Specials are for online purchases only, don't miss out! -
Email
us to check for availability.
Bioceuticals Lactoferrin Plus SB is an immunobiotic introducing nutrients and probiotics in one comprehensive formula for healthy digestive system and strengthened immune response. It features a unique triple action blend containing lactoferrin, vitamin A and Saccharomyces boulardii for its antimicrobial property, promotion of balanced intestinal microflora and improved immune functions.
Bioceuticals Lactoferrin Plus SB is gentle on the stomach to reduce digestive upsets like nausea, bloating, diarrhea and antimicrobial medication side effects. Added benefit of lactoferrin includes mild to moderate acne control.
Bioceuticals Lactoferrin Plus SB promises the following health benefits for both digestive and immune support.
Is an immunobiotic, probiotics promoting healthy immune functions
Keeps immune system healthy and promotes immunized gastrointestinal tract through antibacterial, antiviral and antifungal properties, improved immune tolerance of digestive tract and fortified defense against infections or diseases
Reduce digestive upsets like nausea, bloating, diarrhea and antimicrobial medication side effects
Alleviates symptoms associated with diarrhea, caused by antibiotics or travelling
includes mild to moderate acne management
Stable in heat, does not need refrigeration
Suitable to use while travelling
Adults and children over 14 years: Take up to 5 capsules daily or as directed by your healthcare practitioner.
Each capsule contains:
| | |
| --- | --- |
| Lactoferrin - bovine | 150mg |
| Saccharomyces cerevisiae (boulardii) | 150mg |
| Retinol palmitate | 517.5mcgRE |
| equiv. vitamin A | 1725IU |
If symptoms persist consult your healthcare professional.
If diarrhoea persists for more than 6 hours in infants under 6 months, 12 hours in children under 3 years, 24 hours in children aged 3-6 years, or 48 hours in adults and children over 6 years, seek medical advice.
The recommended daily amount of vitamin A from all sources is 700mcg retinol equivalents for women and 900mcg retinol equivalents for men.
WARNING – When taken in excess of 3000mcg retinol equivalents, vitamin A can cause birth defects. If you are pregnant, or considering becoming pregnant, do not take vitamin A supplements without consulting your doctor or pharmacist.
Vitamin supplements should not replace a balanced diet.
Derived from cow's milk.
Always read the label. Use only as directed.
BioCeuticals is Australia's leading provider of nutritional and therapeutic supplements. Renowned for manufacturing and delivering high quality integrative medicines to healthcare practitioners, BioCeuticals aims to consistently raise the standards of natural-based therapies.
With quality, innovation and integrity as guiding principles, BioCeuticals is at the forefront of ensuring complementary and alternative medicines (CAMs) become an integral part of the Australian allied healthcare industry.
BioCeuticals has a strong commitment to research, functional formulas and reliable practitioner support. Our supplements are recognised by qualified healthcare practitioners as well as patients; a fact that reflects our reputation as a progressive force in integrative health.
An astonishing one in five of the worlds plant species are estimated to be threatened with extinction in the wild, with unsustainable harvesting a major factor in this decline.
The rapid rise in demand for medicinal plants is contributing to the over-harvesting of these species. Unless plants are properly collected and cultivated endangered plant species may ultimately become extinct.
The BioCeuticals Sustainability Policy is based on the conservation work of organisations including:
* CITES (Convention on International Trade in Endangered Species of wild fauna & flora) - www.cites.org
* TRAFFIC, the wildlife trade monitoring network - www.traffic.org/medicinal-plants
* United Plant Savers - www.unitedplantsavers.org
* ICUN Red List of Threatened Species - www.icunredlist.org
By following their recommendations, BioCeuticals is committed to ensuring the sustainability of the medicinal plants in our Herbal Range.
BioCeuticals Sustainability Policy
Guidelines on the sustainable cultivation and collection of medicinal plants.
* Any herb classified as threatened by CITES, TRAFFIC, IUCN Red List or United Plant Savers will not be considered for inclusion in any BioCeuticals formulas unless a sustainable source may be accessed.
* If a herb becomes threatened and is an existing BioCeuticals formula, we will either ensure it is sourced from a cultivated source or reformulate the product to include an alternative herb.
* If a herb is considered threatened in a specific country or region, BioCeuticals will not source the herb from that particular area. We will seek an alternative sustainable growing region.