Clinicians Evening Primrose Oil (1000mg) 90 capsules
Clinicians Evening Primrose Oil 1000mg contains the omega-6 essential fatty acid (EFA), gamma linolenic acid (GLA). EFA deficiency can affect all organs in the body and is especially important for the health of the skin, the bronchial and circulatory system, hormonal balance, immune system balance and joint health.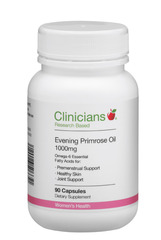 Specials are for online purchases only, don't miss out! -
Email
us to check for availability.
Evening Primrose Oil Benefits

Evening primrose oil is a vegetable oil which is rich in the omega-6 essential fatty acid called gamma linolenic acid (GLA)
With added Vitamin E to protect the GLA from oxidative damage
Provides omega-6 essential fatty acids to support the body's production
Studies show omega-6 essential fatty acids assist the body with hormone regulation
Evening Primrose Oil Features
Provides a quality source of Omega-6 fatty acids (GLA)
Easy dose soft gel capsule
Single high dose
Can be taken alongside conventional medications
Suitable for all ages, in pregnancy and during breastfeeding
Healthy individuals may benefit from taking EPO alongside a multivitamin and mineral complex such as Clinicians MultiVitamin and Mineral Boost
Women may benefit from EPO alongside Clinicians Omega-3 Fish Oil on days 12 to 25 of their cycle for support during PMS
EPO may be used for healthy skin support
Recommended Dose:
Adults: 1 to 2 capsules, 2 to 3 times daily. As a maintenance dose, take 1 capsule once or twice daily.
Active Ingredients in each gelatin capsule:
Evening Primrose Oil
Providing:
Gamma Linolenic acid (GLA)
Other fatty acids (including linolenic acid and oleic acid)
Vitamin E (as d-alpha tocopheryl)

No added: gluten, dairy, yeast, sugar, artificial colours or preservatives.
Avoid using evening primrose oil in individuals with epilepsy as GLA is known to increase the incidence of seizures. Individuals with epilepsy may want to consider using Clinicians Krill Oil 500 or Omega-3 Fish Oil as a source of essential fatty acids.

Individuals on blood thinning medications such as warfarin should consult a health professional before taking evening primrose oil especially in high doses as it may affect blood clotting times.

Pregnancy & Breastfeeding - Clinicians Evening Primrose Oil is considered safe to use during these times.
Clinicians products support rather than compete with modern medicines. As medicines can deplete nutrients in the body, it was important to develop nutritional products that replenish the nutrients lost. Clinicians products, if taken on a regular basis, can also reduce the dependency on modern medicines.
Back in 1997, two pharmacists - Mike Cushman and Denis Kay - came to realise that the current pharmaceutical model was limited. Simply put, it couldn't provide the total answer to delivering wellness for their customers. Mike and Denis researched general and specific conditions to understand key drivers that triggered the imbalances that caused specific conditions. Along with this they researched the impact of modern medicines on body processes and their contribution to these imbalances.
And the result? The Clinicians product range of nutritional support. The product range developed includes not only general vitamin and mineral supplements, but also products for specific conditions and now a Works With Medicine range.