Clinicians L-Arginine (750mg) 90 tablets
Clinicians L-arginine provides a high quality source of the semi-essential amino acid L-arginine. The amino acid L-arginine provides cardiovascular and circulatory support and plays an important role in supporting male fertility by supporting healthy sperm production and libido.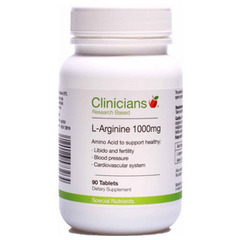 Specials are for online purchases only, don't miss out! -
Email
us to check for availability.
L-Arginine Benefits


Plays a role in relaxing blood vessels, to support heart health, blood flow and healthy blood pressure

Supports healthy erectile function in males with low nitric oxide activity

May support healthy sperm counts

Supports healthy lean muscle mass and total strength

L-arginine plays a role in hormone production to support natural growth and development

For women, L-arginine may support reproductive health and fertility

L-Arginine Features
Clinicians L-Arginine provides a high potency form of this semi-essential amino acid

Allows for flexible dosing regimes

All males may use L-arginine if they require additional support in sexual performance and fertility, cardiovascular health and natural growth and development.
As a general rule if you are taking medications for diabetes, erectile dysfunction, high blood pressure or blood coagulation you need to consult a health professional before you use Clinicians L-Arginine or any other product containing L-arginine.
Recommended Dose:

Adults: Take 2 capsules twice daily or as directed.
Active Ingredients in 1 capsule:
L-Arginine hydrochloride

No added: gluten, dairy, yeast, sugar, artificial colours or preservatives.
Do not use Clinicians L-Arginine in individuals with any known allergies to L-Arginine. Individuals with pre-existing medical conditions or on prescription medications for blood pressure (nitrates) and erectile dysfunction (sildenafil) should consult a health professional before using Clinicians L-Arginine.

Individuals with the following conditions; asthma, allergies, herpes simplex, schizophrenia, kidney or liver diseases or recent heart attack should consult a health professional before using Clinicians L-Arginine.
Clinicians products support rather than compete with modern medicines. As medicines can deplete nutrients in the body, it was important to develop nutritional products that replenish the nutrients lost. Clinicians products, if taken on a regular basis, can also reduce the dependency on modern medicines.
Back in 1997, two pharmacists - Mike Cushman and Denis Kay - came to realise that the current pharmaceutical model was limited. Simply put, it couldn't provide the total answer to delivering wellness for their customers. Mike and Denis researched general and specific conditions to understand key drivers that triggered the imbalances that caused specific conditions. Along with this they researched the impact of modern medicines on body processes and their contribution to these imbalances.
And the result? The Clinicians product range of nutritional support. The product range developed includes not only general vitamin and mineral supplements, but also products for specific conditions and now a Works With Medicine range.