Fab Iron & Vitamin B Complex and Zinc 60 Capsules
FAB IRON is the ideal iron supplement to meet your daily requirement, while being gentle on the stomach.
FAB IRON+ Vitamin B Complex and Zinc assists when dietary iron and vitamin intake is inadequate.
FAB IRON is a combination of easy to absorb iron and energy boosting B group vitamins to help restore energy and overall health. Added Zinc helps to support the immune system.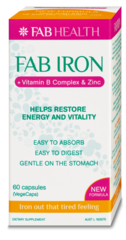 Specials are for online purchases only, don't miss out! -
Email
us to check for availability.
• Easy to absorb: contains vitamin C to assist with maximum iron absorption.
• Easy to digest: contains organic chelated form of iron that is easy to absorb and digest in the body.
• Gentle on the stomach: Chelated iron is a well tolerated and gentle on the stomach, minimising unpleasant side effects such as constipation and nausea that can be associated with other forms of iron.
• Halal certified.
• Kosher certified / Suitable for vegetarians and vegans.
Adults – Take 1 to 2 tablets daily or as directed by your healthcare professional
Free from gluten, wheat, lactose, yeast, preservatives, flavours and artifical sweeteners.
Each capsule contains:
Iron Amino Acid Chelate 100mg,
Equivalent Iron 10mg,
Zinc Amino Acid Chelate 15mg,
Equivalent Zinc 3mg,
Vitamin B1 (Thiamine Nitrate) 10mg,
Vitamin B2 (Riboflavin) 10mg,
Vitamin B3 (Nicotinamide) 20mg,
Vitamin B5 (Calcium Pantothenate) 10mg,
Vitamin B6 (Pyridoxine Hydrochloride) 5mcg,
Vitamin B12 (Cyanocobalamin) 15mcg,
Vitamin C (Ascorbic Acid) 75mg,
Biotin 75mcg.
Vitamin supplements should not replace a balanced diet.
Not for the treatment of iron deficiency conditions
KEEP out of reach of children.
Do not use if the carton seal or bottle seal is missing or broken.