Promensil Menopause Double Strength 30s
Red clover isoflavones for women during and after the menopause.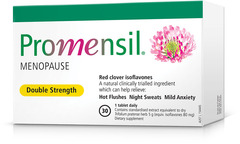 Specials are for online purchases only, don't miss out! -
Email
us to check for availability.
For women who want menopause symptom relief support.
Promensil is a dietary supplement based on red clover isoflavones specifically standardized to help provide support and wellbeing for women during and after the menopause. Promensil's unique formulation contains a source of isoflavones that are important to good health. Red clover isoflavones are naturally occurring plant oestrogens.
Promensil Double Strength is an extensively studied* natural menopause support supplement.
International scientific research over 12 years has found standardized 80mg isoflavone red clover extract supplementation helps relieve symptoms of menopause. Studies have also found that Promensil has a good safety profile. It may help to maintain good general health during menopause, and offers the following additional support:
– Contribute to healthy menopause support
– May help maintain healthy bones in post menopausal women **
– May help relieve dry skin
– May boost daily healthy phytoestrogen levels
*Lipovac M, Effect of red clover isoflavone supplementation over vasomotor and menopausal symptoms in postmenopausal women. Gynecological Endocrinology 2011;1-5
Hildago. The effect of red clover isoflavones on menopausal symptoms, lipids and vaginal cytology in menopausal women: A randomized, double blind, placebo-controlled study.Gynecological Endocrinology 2005;21(5):257-264.
Tice Phytoestrogen Supplements for the Treatment of Hot Flashes: The Isoflavone Clover Extract (ICE) Study. JAMA, July 9, 2003 – Vol 290, No. 2.
**in conjunction with adequate dietary calcium and Vitamin D
One tablet daily with a meal. While individual responses vary, many women will notice a difference in symptoms within 3 to 8 weeks of daily usage.
Contains tableting aids.
Contains standardized extract equivalent to dry Trifolium pratense (Red Clover) herb 5g (equiv. isoflavones 80mg)
No added sugar, yeast, milk derivatives, wheat and corn starch, gluten or artificial flavours
Who can benefit from Promensil Menopause Double Strength?
Can provide menopause support during menopause. Promensil Menopause Double Strength is specifically formulated to provide a high dose of active ingredient as an additional dietary support for women in menopause and post menopause. Research has found that 80mg of standardized red clover isoflavones per day is the clinically trialled* dose to help reduce severe and frequent symptoms of menopause (including night sweats, hot flushes and mild anxiety).
Always read the label. Use only as directed. If symptoms persist consult your healthcare professional.
Not for use by pregnant or lactating women. Keep out of sight and reach of children. Store below 30°C in a dry place, out of direct sunlight.