Radiance DigestEzyme 60 Chewable Capsules
Radiance DigestEzyme is a pleasant tasting digestive aid. A great alternative to Quickeze and similar antacids for everybody who experiences minor discomfort after meals. Supports Healthy Digestion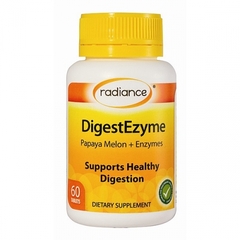 Specials are for online purchases only, don't miss out! -
Email
us to check for availability.
Digestive aid formula Radiance DigestEzyme is made from 100% natural ingredients including papaya, melon, enzymes, peppermint oil and chlorophyll. These delicious chewable tablets are designed to aid the digestion of food and support intestinal comfort after meals. Usage: A pleasant tasting digestive aid. A great alternative to Quickeze and similar antacids for everybody who experiences minor discomfort after meals.
Chew up to 3 tablets as required after meals.
Each Tablet Contains: Proprietary Blend 100mg: Papaya, Melon, Papain, Protease, Alpha-amylase, Bromelain, Lipase, Cellulase, Peppermint, Chlorophyll, Peppermint Oil Also contains: Silica, cellulose, stearic acid, magnesium stearate, sorbitol. Contains no: Corn, egg, gluten, milk derivatives, nuts, salt, soy, sugar, wheat, yeast, artificial preservatives, flavouring or colours.